Desktop promotion for September 2017
September desktop promotion for Resellers
Ahsay have been running a summer promotion which has allowed us to purchase a quantity of their desktop licenses (ACB) at reduced rates.
Do you have any customers who have yet to convert to online backups because of the cost? Now they can have total peace-of-mind with automated backups on their office PCs or laptops when travelling.
Promotion details
License charges (monthly): Desktop license is £0.50 (per device). Usual price is £3
Free storage: 5GB on Microsoft's Azure cloud in the UK
Storage charges (monthly): Cost per GB storage thereafter is 5p
How to get this promotion
The promotion has started and will run until the end of September.
Look for this icon at the bottom of your plans in your Reseller portal at https://portal.data-stor.net. You can get there from 'Customers \ Add Customer'.
If you don't have a portal, you can sign up HERE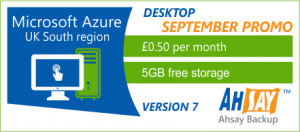 Terms
1. You must convert 10 desktops on the promotional plan before the 30th September
2. Desktop devices which have previously backed up to our platform cannot take advantage of this promotion
3. Each device will be billed for a license @ 50p
4. Only Windows and MAC desktops are supported
5. Your first invoice will be for £1 plus any storage above 5GB for every device in use at midnight on Saturday the 30th September
6. This promotional cannot be used in conjunction with any other promotion or offer
7. Any accounts which are in trial mode on the 1st October will be deleted from the system
You can contact us here if you need more details or a call back