Got Dropbox, OneDrive, FTP or other online storage?
If so, you have an online backup business!
With the release of Ahsay version 7.13.0.47 (6th Oct 2017), we are now providing a software only service so you can back up to your storage anywhere (well almost).
All details and pricing can be found on the 'Your Storage' page.
How does it work?
The next time you create a new account in your portal, you will see 'Your Storage' as a new account option.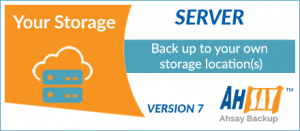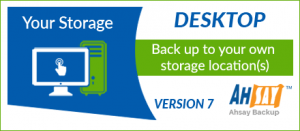 These are still created and managed in your portal, however the only storage destinations which can be used are your own.
You are able to back up to your own Amazon Drive, Amazon S3, Amazon AWS Compatible Storage, CTYun, Dropbox, Google Cloud Storage, Google Drive, Microsoft Azure, Microsoft OneDrive / OneDrive for Business, OpenStack (support IBM Softlayer), Rackspace, FTP / SFTP, and USB drive / local drive / mapped network drive accounts.
Got spare space on your file sharing account? This can be a backup destination for your customers data.
Why use BOBcloud's software instead of the FREE in-built software options?

Most cloud systems are excellent, but have limited feature sets and will normally only back up file systems on desktops and retention periods may vary.
BOBcloud 'Your Storage' benefits:
Built-in modules will back up all current Microsoft operating systems and applications, VMware and NAS devices.
You can back up to pretty much any data storage you like.
Set unlimited retention on all of your backups.
Use storage destinations which your customers' want to use.
Use free space you aren't using on your shared cloud services.
One portal to manage all our your accounts and every backup. It is as easy to manage 1 customer as 101 customers
Next step
If you are new to BOBcloud, you will need to create a Reseller account and create you backups