Whilst there is no denying the fact that business emails are of paramount importance, the question remains – is your Office 365 email secure?
In recent years, Office 365 has become increasingly popular amongst businesses for email. Despite being a promising solution, one of the biggest concerns with OFFICE 365 is securing your email and SharePoint data. If you're an IT service provider or a business owner, a dedicated online backup solution is crucial to keeping your Office 365 emails secure in the event of any data loss or a ransomware attack.

Data loss can occur for multiple reasons with the most common being a human error, malicious attacks, ransomware, cyber threats and more. Service outage and regular backups can cause severe data loss which is irrecoverable.
Let's take a quick look at how your email data is susceptible to suffer irretrievable loss without a secure backup.
> Clerical or Human Error – To err is human, and often employees may unknowingly delete an important email or a business document which can negatively impact your business. Research suggests that human error accounts for over 70% of the overall data loss cases. While it is always advised to be responsible with handling email and online data, the smart way to avoid any unpredictable data loss due to a human or clerical error is to have a dedicated secure backup solution that stores your email data in real-time.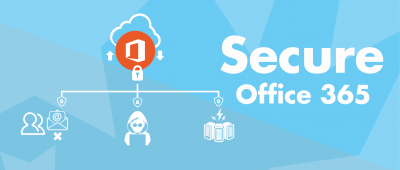 > Cyber Attacks and Threats – As modern businesses are becoming more and more reliant on online solutions for business communication and data storage, simultaneously, there has been a significant rise in the number of organised cyber-attacks and malicious programs like ransomware which often lead to loss of crucial business and financial information.
Though there are promising solutions and measures to avoid such attacks, they are mostly precautionary and preventive in nature and do not guarantee complete security against any cyber attack. To prevent any information or data loss in the event of such an attack it is always recommended that you store multiple copies of your data.
> Service Outage – In the event of your Office 365 service going offline you can get service credits. However, once the availability is less than 99.9%, that's when it's troubling. An under 99.9% availability of your office 365 service translates to an estimated downtime of 31,536 seconds or about 1 hour per month. While this may not seem to be all that bad, but why even suffer that level of service outage when you can ensure 99.999% availability which means 315 seconds or about 5 minutes a year.
Say No To Data Loss With BOBcloud's Office 365 Backup
BOBcloud's Office 365 backup provides online data storage protection against problems and protects your essential business documents and emails against cyber threats and other instances of potential data loss. With BOBcloud Office 365 Backup you have the flexible options to store your data on Microsoft's UK cloud [Azure], other cloud providers, or your private storage. You will also have an instant backup which means your emails are stored in real-time.
Get To Know More About BOBcloud's Office 365 Backup Solution And Secure Your Office 365 Emails Today!