Acronis Cyber Protect vs. Backblaze Backup. Reviewed Sept 2023
Cloud backup software is crucial if you want to safeguard your digital life. When a cloud backup runs, it stores encrypted copies of your data in the cloud backup storage.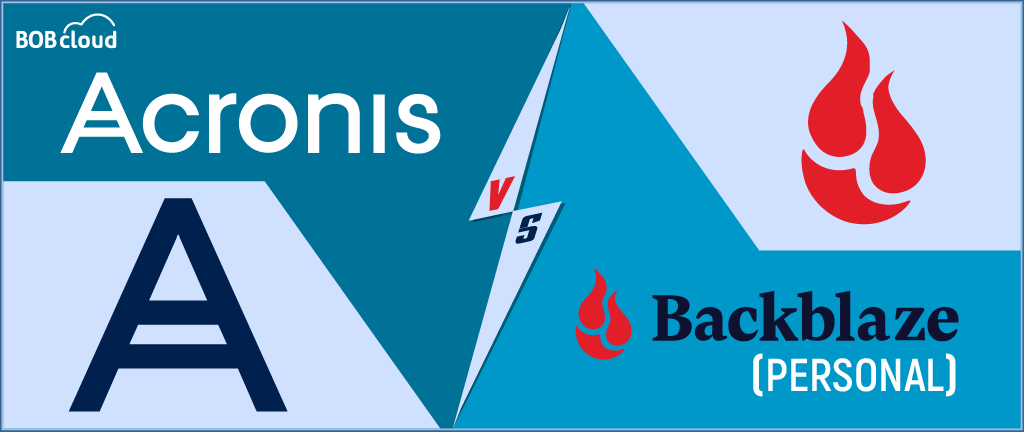 The essentials of any backup service are; the backups must run automatically when scheduled and provide an encrypted mirror copy of your live data. An offsite backup ensures protection against data loss caused by hardware failures, malware attacks, or accidental deletions. 
Acronis Cyber Protect Home Office and Backblaze Personal Backup are two of the best cloud backup solutions we have tested. 
Acronis cloud backup offers comprehensive features, like system image, file level, disk cloning, incremental backups, ransomware protection, Microsoft 365, and 50GB storage. 
Backblaze pricing is more affordable when you consider they provide unlimited storage. Backblaze backup will protect your attached storage, unlimited files and file size.

Choosing the correct backup service will depend on your wants and needs for a data backup service.

This Backblaze and Acronis review will explore their features, pricing, performance, security, user-friendliness, support, and compatibility.
Acronis Cyber Protect Home Office


You want a wide range of advanced cloud backup features and the ability to customise your online backup
Your backed-up data encryption must be strong enough to protect your data at rest
You need compatibility across multiple platforms for your devices


You are looking for a simple, automated backup solution that requires minimal effort
You are on a budget and have loads of data on your local and removable drives
Quick and easy lost file recovery and deleted file recovery
Features and Functionality: Backblaze vs. Acronis
Acronis Cloud Backup Portal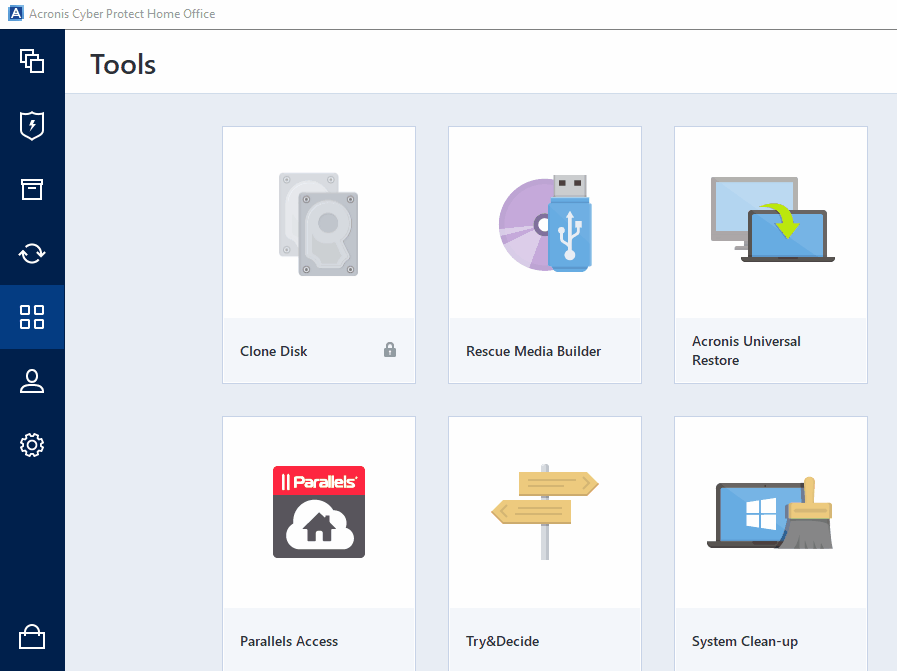 Acronis Cyber Protect Home Office is a fully featured cloud backup solution, allowing you to generate entire system image backups or selectively target individual files and folders. Versatile storage options include local drives, external devices, network drives, or cloud repositories. Accessibility is seamless via the Acronis web portal or mobile APP.

Active disk cloning: Seamlessly clone your system onto another drive.

Dual protection:

You can create two backup copies on a local drive and one in the cloud for extra data durability.

Ransomware defence:

Employ Acronis Active Protection to prevent malicious encryption behaviour.

Backup cleanup:

You can free up space on your backup drive by deleting old or unnecessary backups with Acronis Backup Cleanup.

Backup validation:

Assure backup integrity with Acronis Backup Validation, which detects errors and corruption.
Backblaze Cloud Backup Portal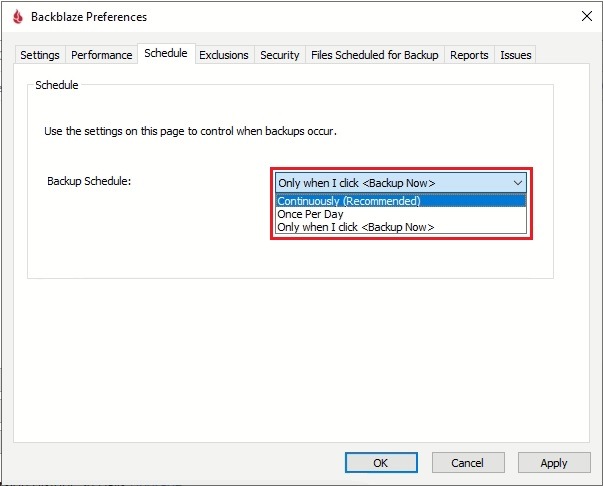 Backblaze Personal Backup offers an uncomplicated, budget-friendly cloud-based backup service. Backblaze pricing is among the most competitive, and the service also offers these great features.
Unlimited cloud storage: Got 50 years of photos? No problem, because you get free unlimited cloud storage.


Continuous Backup:

 Automatically back up your files every 10 minutes. Backblaze adjusts the upload rate to minimise system load. Changes are detected within 2 hours. The backup schedule can be manually adjusted in the settings to once per day or Only when I click the "Backup Now" button.
Data Encryption: The encryption of data is critical in transit and at rest. What does data encryption mean? It means it is difficult for an actor to decrypt your data if they gain access to it.

File versioning: Backup file versioning is very important if you have to restore file versions older than the standard 30-day retention provided by Backblaze.


File sharing:

 Facilitate file sharing via expiring download links. This is an excellent feature seen in Dropbox and OneDrive and is necessary for collaboration.
Acronis Cyber Protect Home Office vs. Backblaze Personal Backup caters to varied user requirements, whether through Acronis' extensive features or Backblaze's user-friendly simplicity.
User Interface and Ease of Use:
Your chosen cloud backup solution must have an intuitive user interface for easy use. This is important for seamless data management. This comparison spotlights Acronis Cyber Protect Home Office and Backblaze Personal Backup.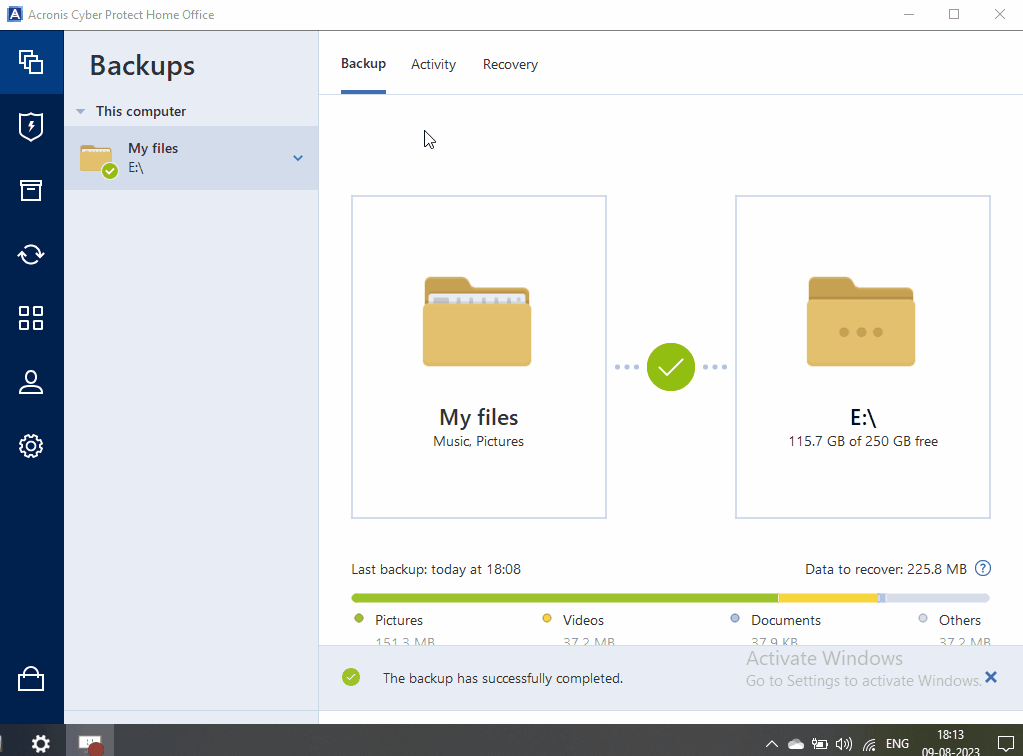 Acronis Cyber Protect Home Office offers a sleek interface categorised into Backup & Recovery, Protection, Archives, Sync, Tools, Account sections, and Settings, accessible through a left-hand sidebar. Users have a wide range of controls, from creating backup plans for entire systems, disks, or files to customising settings like encryption and notifications. 
Recovery facilitates data restoration from local or cloud backups, while Tools encompass disk cloning and ransomware protection. The Account section enables the management of cloud storage and subscription details.
Backblaze Personal Backup has a minimalist interface that emphasises backup status and settings. Users can swiftly access the interface through the system tray or menu bar icon. Users can effortlessly pause, resume, or manually initiate backups by displaying essential backup details such as file counts and last backup timestamps.
The Settings menu offers configuration options for backup schedules, bandwidth control, encryption, and exclusions. Additionally, online account access enables file viewing, data restoration, and account management.
Acronis Cyber Protect Home Office vs. Backblaze Personal Backup delivers user-friendly interfaces catering to diverse preferences. While Acronis Cyber Protect Home Office provides an expansive feature set for advanced customisation, Backblaze Personal Backup excels in simplicity and hassle-free functionality.
Backup Speed and Performance:
Backup speed is a crucial consideration when selecting a backup service. It pertains to how swiftly the service transfers data from your computer to the cloud or other storage devices. 
On the other hand, backup performance evaluates the service's proficiency in handling diverse data types, encryption, compression, and other elements influencing the efficiency of the backup process.
Backup speed and performance depend on several factors, such as:
The file type and size affect the backup process

The speed and reliability of the internet connection

The encryption and compression methods used by the backup software

The availability and performance of the backup servers

The configuration and optimisation of the backup software
Acronis Cyber Protect Home Office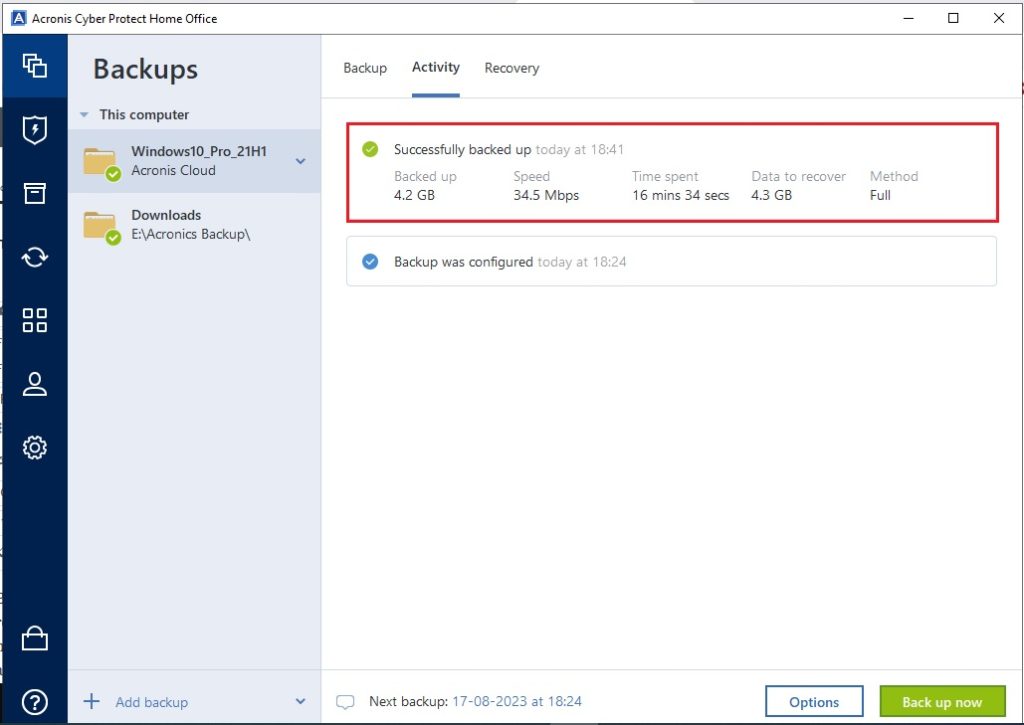 Acronis Cyber Protect Home Office and Backblaze Personal Backup are both cloud-based backup solutions that offer encryption, compression, deduplication, incremental and differential backups, and other features to enhance backup speed and performance. However, some differences between them might affect your backup experience.
On the Activity of each successful backup, you will find the backup file size, average backup speed, the time Acronis spent for this file to take backup, the file size at the time of recovery and the backup method you chose. Following are some of the notable points that will affect the performance and speed of the Acronis backup:
Allows you to choose between three compression levels; none, regular, or high

Allows you to adjust the bandwidth usage and backup priority

Allows you to schedule backups or run them continuously

Allows you to backup to local drives, network shares, or NAS devices in addition to the cloud

Allows you to store data on multiple data centres around the world to ensure fast and reliable backups
Backblaze Personal Backup: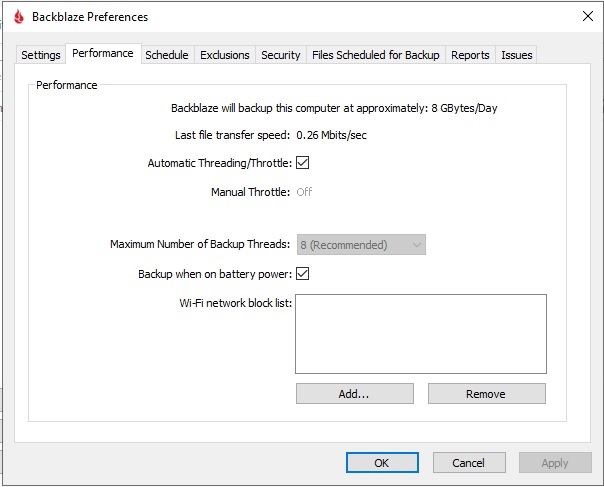 The Backblaze Performance tab is a function within the Backblaze software designed for users to optimise their backup speed.
Estimated Backup: At the top of the Performance tab, you'll find an estimate of the daily backup capacity based on recent speed tests and throttle settings.
Automatic Throttle: This setting limits upload speed to 70-90% of your connection speed to the Backblaze data centre. It balances quick backups with uninterrupted web activities.
Manual Throttle: By unchecking "Automatic Throttle," you activate "Manual Throttle" and reveal a slider. This slider lets you manually control the upload speed of your files.
It uses the LZ4 compression algorithm

Automatically adjusts the bandwidth usage and backup priority

Runs backups continuously in the background

It only backs up to the cloud

Uses one data centre in the US for backups
Acronis Cyber Protect Home Office offers more flexibility and control over encryption and compression settings and more options for backup destinations. 
Backblaze Personal Backup uses a more straightforward encryption and compression approach and a single data centre for backups. The best way to compare these two services' backup speed and performance is to try them with your data and internet connection. Both products offer free trials.
Acronis and Backblaze both give priority to data security with robust encryption mechanisms. Acronis implements AES-256 encryption, offering users the choice between default or custom encryption keys. Users are responsible for its protection if opting for a personal key because Acronis doesn't store it anywhere or provide recovery support.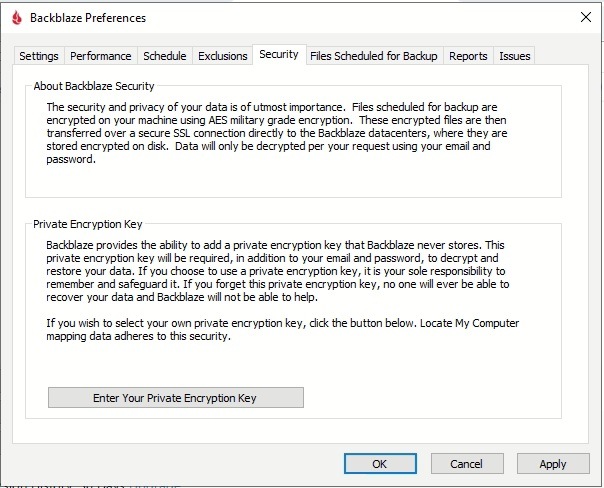 Backblaze employs AES-128 encryption, allowing users to opt for default or custom encryption keys. Should users choose a personal key, they are responsible for its protection and recall, as Backblaze does not offer recovery support.
Both products, Acronis and Backblaze, support two-factor authentication (2FA), bolstering account security. With 2FA, users will receive a code from their phone or an authenticator app during account login, thwarting unauthorised access even if passwords are compromised.
Both Acronis and Backblaze prioritise the highest level of security and encryption, ensuring the utmost protection for users' data.
When choosing a backup solution, considering backup destinations is crucial. Acronis Cyber Protect Home Office vs Backblaze Personal Backup offer distinct approaches.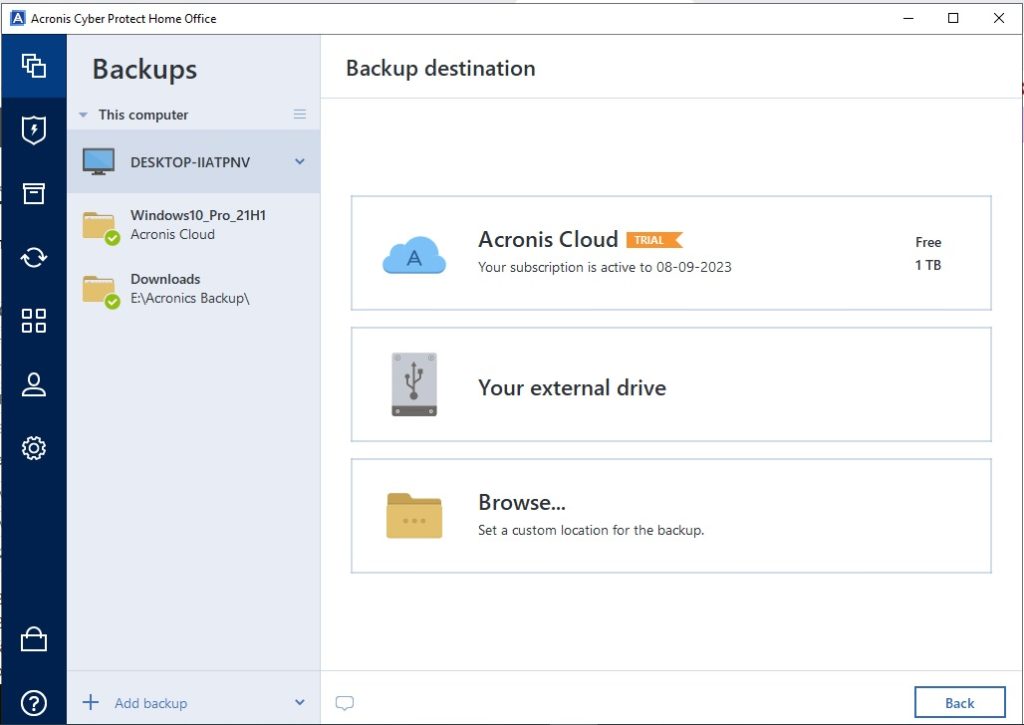 Acronis Cyber Protect Home Office is a comprehensive software enabling entire system image backups and file-level backups. Users can store backups on Acronis Cloud with 1 TB free of space, external hard drives, and local drives. 
This flexibility empowers users to customise and control backup destinations for different needs, offering encryption and compression options for added security and space savings.
Backblaze Personal Backup provides a simple and automated service, backing all data to its cloud servers. Users need not choose specific folders; the service runs continuously in the background. The External Drive feature allows local backups for those desiring it.
Acronis Cyber Protect Home Office appeals to users seeking customisation and control, while Backblaze prioritises ease and convenience. The choice between them depends on individual preferences and requirements.
Cross-Platform Compatibility:
Cross-Platform compatibility is another crucial factor when choosing a backup solution: whether it supports your operating systems and devices. 
Both Acronis Cyber Protect Home Office and Backblaze Personal Backup offer cross-platform compatibility, but there are some differences in their features and limitations.
Data Recovery and Restoration:
Data recovery and restoration are vital in any backup solution. Let's compare Acronis Cyber Protect Home Office and Backblaze Personal Backup.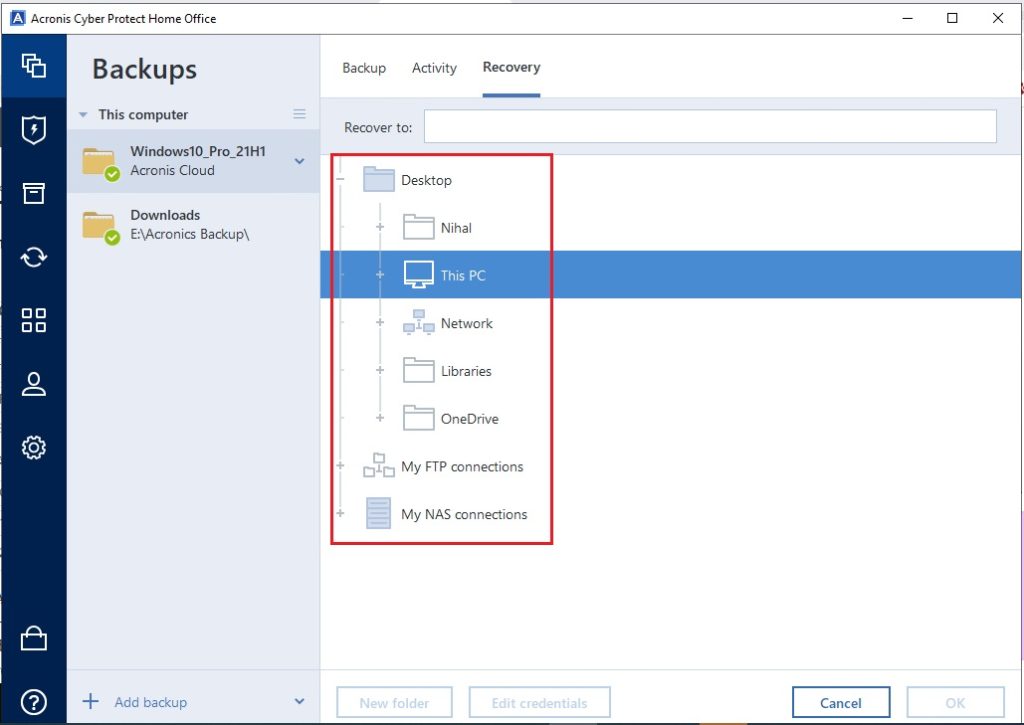 Acronis Cyber Protect Home Office offers more data recovery and restoration options, allowing recovery of personal files, entire systems, disks, or partitions. The software provides greater flexibility in choosing restoration destinations and modifying data.
On backup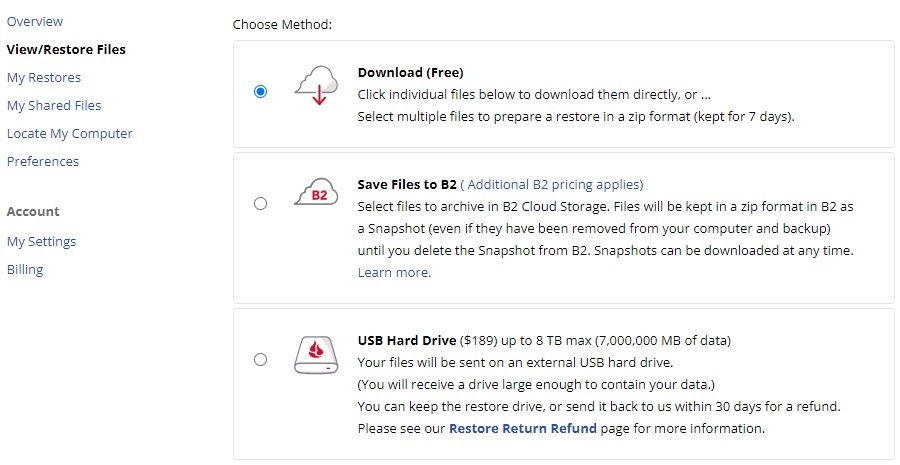 Backblaze offers three recovery methods with its more straightforward approach, but it is still limited to personal file recovery and lacks support for differential backups.
Downloadable ZIP File: This method creates a ZIP file of the files you request, available for download for seven days. You can access your files immediately and at no cost.
Save Files to B2: By selecting this option, you can save your restored files directly to a B2 Cloud Storage bucket. This feature comes in handy if you wish to retain a copy of your restored files in the cloud for accessing them in the future.
USB Hard Drive: Backblaze can send you a physical hard drive with restored files. This is a good option if you have a lot of data to restore and can't download it.
Ultimately, the best choice depends on individual needs. Acronis Cyber Protect Home Office excels in comprehensive and flexible backup and restoration, while Backblaze Personal Backup provides a straightforward and cost-effective solution for personal file recovery.

Acronis Cyber Protect Home Office provides a range of subscription plans designed to cater to different user needs. Whether you're interested in the Essential, Advanced, or Premium subscriptions, Acronis offers a diverse selection. 
Each subscription level boasts unique features like complete image backups, a defence against ransomware, and the ability to store data in the cloud. This flexibility comes at a slightly higher cost than some alternative options.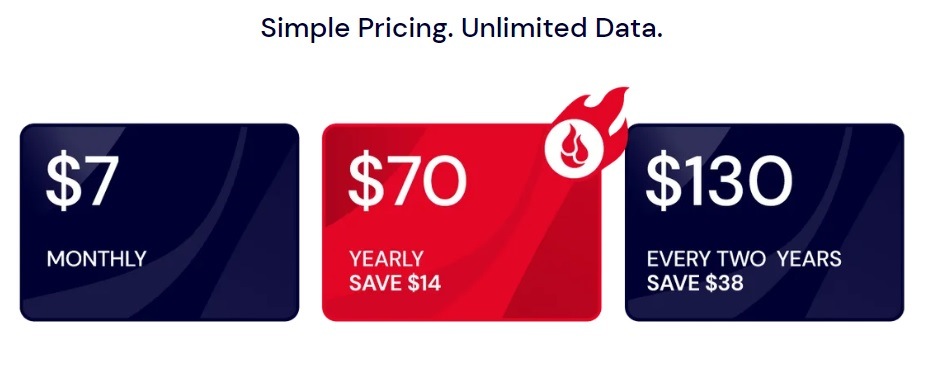 Backblaze adopts a more straightforward approach by presenting a single personal plan that fully features all fundamental backup requirements. The pricing structure is clear and wallet-friendly, making it particularly attractive for users searching for unlimited backup capabilities without the intricacies associated with managing multiple subscription tiers.
Backblaze has a more straightforward and cheaper pricing model, with only one plan that covers everything you need for cloud backup. You can save some money by signing up for a longer term.
Both Acronis Cyber Protect Home Office and Backblaze offer unlimited data backup for your computer, but they have different approaches to pricing and subscription plans. Acronis lets you select other editions with additional features and cloud storage capacities, but it is more expensive than Backblaze, especially if you want to use the cloud backup feature.
Customer Support and Documentation:
When choosing a backup solution, one of the factors that you may consider is the quality of customer support and documentation that the provider offers.
Acronis, a Swiss tech firm, specialises in backup, disaster recovery, cybersecurity, and endpoint management solutions. Established in 2001 by Serg Bell, Ilya Zubarev, and Stanislav Protassov, it originated from SWsoft, a virtualisation software company.
Starting with disk tools, Acronis shifted to fast and reliable data protection through disk imaging. With 2,000+ staff across 45 sites, it serves 750,000+ businesses and 18,000+ providers in 150 nations. 
Available in 26 languages, Acronis products encompass cyber protection's five facets: safety, accessibility, privacy, authenticity, and security.
Established in 2007 by Gleb Budman and his team, Backblaze aimed to create an affordable, reliable cloud backup solution. Their debut product, Backblaze Personal Backup, launched in 2008 at $5/month for unlimited storage, gaining popularity against data loss. In 2012, Backblaze introduced B2 Cloud Storage for businesses with advanced features. 
In 2021, Backblaze went public on Nasdaq, raising $450 million. Now a global leader with over a million customers and 3 billion GB of data managed, Backblaze is recognised for cost-effective, dependable services, securing its position in cloud backup.
Acronis Cyber Protect Home Office offers comprehensive features, customisation, and diverse recovery options for users valuing control and system-level protection. Its advanced interfaces, strong encryption, and cross-platform compatibility, make it a robust solution, though its complexity and higher price may require consideration.
Backblaze Personal Backup excels in simplicity, affordability, and automated backups. It's a user-friendly choice for individuals seeking hassle-free file recovery. While lacking certain features, it provides straightforward backup solutions, making it ideal for those valuing ease of use and cost-effective pricing.