This affects our predefined Wasabi storage destinations and Resellers' own storage destinations for BOBcloud backups and all FileSync server clusters.
Wasabi had an outage which they put down to a DNS issue.
Here follows their status page.
Incident Status
Degraded Performance
Components
US-East-1, US-East-2, US-West-1, EU-Central-1, Wasabi Management Console
Locations
US-East, US-West, EU-Central
December 29, 2020 04:07 UTC
[Identified] We are currently awaiting the restoral of the wasabisys.com domain by our third-party domain name provider. We do not have a restoral ETA at this point because we are dependent on the third-party domain name provider to take actions.
December 29, 2020 01:25 UTC
[Identified] Our issue has been isolated to a problem with our wasabisys.com domain as a result of some malicious content hosted in one of the regions. The content has been removed, and we are working to resolve the impact of this. We'll continue updating this status as we try to restore normal services.
December 29, 2020 00:16 UTC
[Identified] We've narrowed this down to the domain hosting service and should be able to turn this around shortly. We'll continue with another update at about 02:00 UTC.
December 28, 2020 21:18 UTC
[Identified] Just an update that some customers continue to see issues with DNS servers not resolving the Wasabi endpoints such as s3.wasabisys.com or s3.eu-central-1.wasabisys.com, etc correctly. We've had customers report issues with Google DNS (8.8.8.8) and Cloudflare (1.1.1.1). OpenDNS (208.67. 222.222) has shown a bit better. We're working with our authoritative DNS provider to try to further isolate the issue. We'll continue to keep the status page updated as they report progress.
December 28, 2020 19:38 UTC
[Investigating] We are currently investigating reports of issues resolving some endpoints including s3.eu-central-1.wasabisys.com s3.us-west-1.wasabisys.com and s3.wasabisys.com. We are investigating to try to determine the source of the issue. We will update this page as soon as we have more details.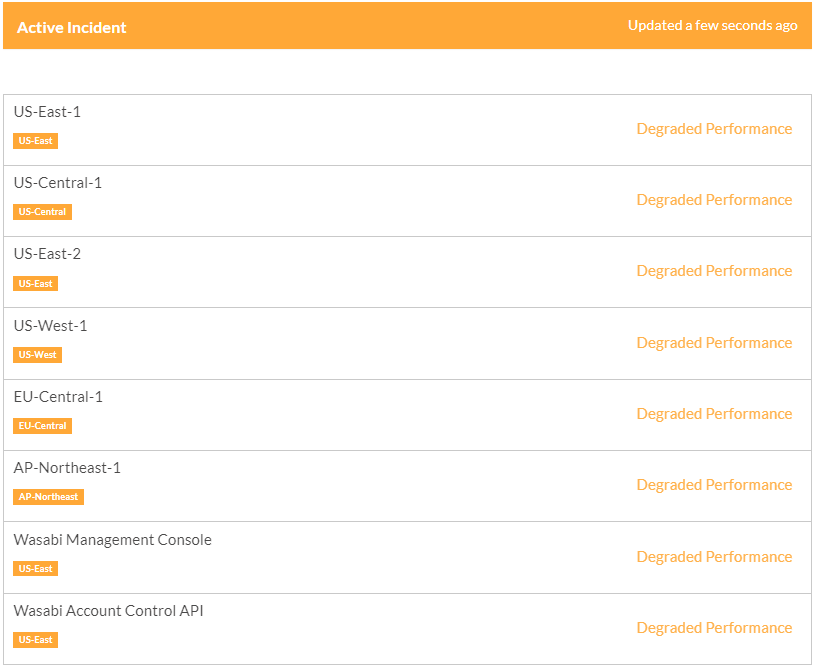 Wasabi are not without their service issues and they are always very quick to report them clearly.
This outage is certainly an issue outside of their control and the durability of all backups stored on Wasabi is not in question. This includes our predefined Wasabi destinations and resellers' own destinations.