IDrive backup and Backblaze Backup review. Reviewed Sept 2023
The best cloud storage services in 2023 for the UK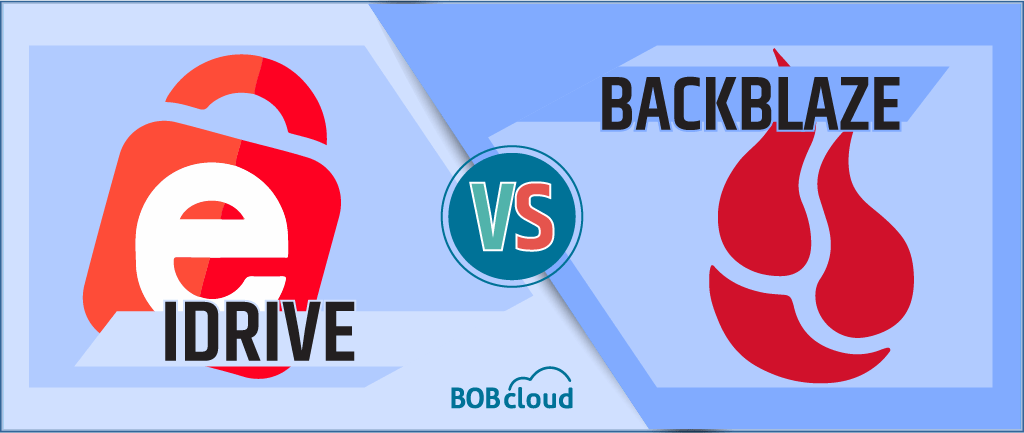 We have reviewed the most popular cloud backup services based on website traffic from Google with our top two picks based on value for money, security and ease-of-use.
Personal cloud storage backup
The best cloud backup solutions will protect your important files and photos because they store an exact copy in another location. Should your treasured photos be lost via device theft, a virus, or hard disk failure, you will always have a copy to restore from.
Cloud storage has been a 'must' for business and domestic users since 2005, and hundreds of similar services are available. Local backups work well as a 'plan B' but not in place of an offsite backup.
Cloud backup must satisfy different wants and needs; what works for someone else might not work for you.
If you want a cloud backup service in the UK, you don't want to use a non-UK company or one that can scan your data in the cloud. This level of security is critical for your personal and small business data.
Our top two Cloud Backup recommendations


$7.95 when switching or $59.62
Simple to install and use.
Free account available, low-cost service, fully automated, files synced across all devices, multiple devices and OS support.
We are reviewing low-cost and basic personal cloud storage and have made some assumptions based on what is expected from a service like this. Because of this, we haven't specified which services provide these features.
Assumptions are; You won't need to backup a single file larger than 10GB, your data won't be regulated by medical, military, police or government, and you don't have an active RTO and RPO policy.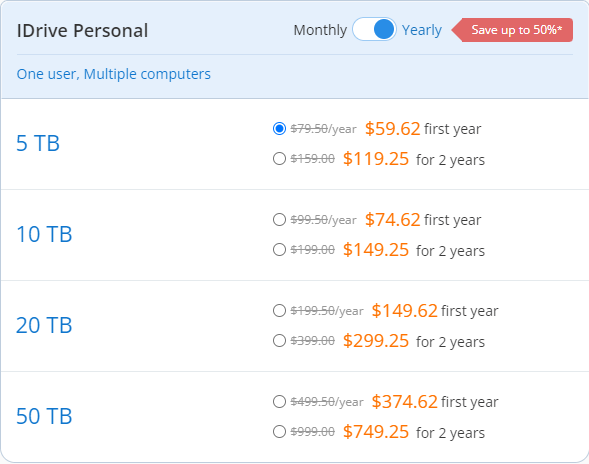 IDrive personal backup overview
IDrive personal backup is the only one we reviewed that doesn't provide unlimited online storage; however, they offer a 5TB quota at the lowest price of all those reviewed and allow unlimited devices to share the same account.
IDrive will be your best option if you have more than one device you want to back up and your total storage requirements are no more than 5TB.
IDrive is one of the leading cloud backup providers that provide personal cloud backup, business online backup, hardware devices and object storage.
Installing and using IDrive Personal
IDrive has streamlined the signup and installation process. Create your free account, download the software and off you go.
The software interface detects your OS and adds the most likely folders you'll need to back up. In our instance on a Windows desktop, the profile with \desktop \ documents\ music \pictures and \videos were auto-added. You can simply remove these and add others as you like.
Backing up with IDrive Personal
After selecting the folders and backup schedule, the backup is ready to start. The UI is very descriptive during the backup process and gives you the confidence everything is going well. The system generates a concise backup report and sends it through an email alert.
Restoring with IDrive Personal
IDrive's client software and portal are very well-designed and slick in how they work. Restoring with IDrive is simple through their UI whether you have data stored on their cloud or locally on your hardware. 
You can navigate your files and restore them to the original or an alternative location. You can restore data via the desktop software or the web portal.
If you choose to restore your data to an alternative location, a feature locates where your data has been restored to.
The data stored online has the timestamp of IDrive's system rather than the local time when we uploaded the file, and the most recent version is shown each day. If we back up a file ten times in one day, only the most recent file is available for restore.
True unlimited storage for one PC (and a USB disk), recovery disk posted out to you on demand, locate a missing PC
Backblaze personal backup overview
Backblaze is one of the products we reviewed, which provides unlimited storage on one device and one external USB hard drive. We couldn't see any 'gotchas' with their unlimited storage offer.
Backblaze is one of the world's most recognisable names in cloud storage and backup, and recently their B2 object storage platform.
Backblaze has been a firm favourite for low-cost and reliable cloud backup for our team, who want an essential and no-thrills cloud backup for their personal data.
Backblaze personal backup pricing