Object Storage speed test and reviews – Reviewed December 2022
Object Storage test, Review and Pricing
Microsoft Azure blobs, Amazon AWS S3, Google Cloud, Wasabi, Backblaze B2 and IDrive Cloud
Monthly cost to store 1TB of data
Monthly cost to store and download 1TB of data

Quick monthly price comparison between Azure, AWS, Google Cloud, Wasabi, Backblaze B2 and IDrive Cloud
As you can see, Microsoft's Azure object storage and Google's object storage are EIGHTEEN times more expensive than Wasabi's object storage if you want to store and download 1TB of data. This is based on comparative products in a monthly billing cycle (Azure LRS hot storage and Wasabi hot storage).

This price comparison assumes you download 100% of your stored data monthly. If your egress usage is less, then the Microsoft and Backblaze costs drop considerably. Increase your egress usage, and your costs go up.
Object storage is also referred to as object-based storage, a method of storing data in units called 'objects'. It is very different to the way files have traditionally been stored.
With traditional storage devices and destinations, you build or buy a predefined storage size, and that is all you can use.
Object storage is different because you don't have a specific-sized storage destination. Instead, an S3 connector within your software will work within the S3 rules and chop/chunk your data into smaller sizes organised into the storage location.

This means you will always have storage space, which can grow or reduce as required.
This process is all controlled by the S3 connector within your system. S3 is the standard method for Object Storage which Amazon first used on their AWS cloud platform. It is also the standard used by almost all object storage providers.
Microsoft has decided to break away from this standard, using its proprietary method for its blobs system. Theirs is also a type of object storage reviewed side-by-side with the others.
How we have put this page​ together
We have been operating as a cloud storage and backup company since 1999 and have used all the storage services which have come and gone in those 20+ years.
We tested and reviewed all these object storage providers in line with industry and expert expectations of secure cloud data storage.
All testing was performed with our cloud backup software. Through a combination of vendor sites, credited forum experts and direct comparisons, we report on the tech, service, and pricing.
The pricing is the best we could obtain from the respective vendor websites, and we review it periodically.
Have we missed an object storage company you want to see reviewed? Let us know.
IDrive's Cloud object storage

$6 (first year) to store and download 2TB. Promo offer
S3 connectivity and easy to setup. Free 30-day trial (no credit card details required). Eleven 9s data durability. Large and mature industry player.
We are still waiting. We'll watch the forums when the 12-month 90% discount expires to see if any negative feedback changes things.
IDrive's cloud backup supports Windows, Mac, Linux, iPhone and Android. They also provide backup appliances that you can deploy in your own LAN or datacentre, providing the reassurance of a Bare-Metal Disaster Recovery (BMR) solution at your fingertips.
The service that really caught our eye is their object storage service which they have aptly named IDrive Cloud.
It uses a traditional S3 connector with excellent eleven 9s data durability which we've come to expect with object storage providers.
With the cloud backup market constantly evolving and the biggest players providing Bring Your Own Storage (BYOS) connectors, IDrive have rightly adopted S3.
In joining the object storage marketplace, they are providing a resilient and durable storage platform to companies and organisations who may not want to use IDrive's native cloud backup software.
IDrive's object storage service allows them to provide cloud storage in multiple ways to suit a variety of needs.
IDrive's Cloud data durability is as good as the rest
Don't be put off by their low price, because IDrive's storage is as good as the rest.
IDrive® Cloud offers eleven 9s of data durability. The self-healing system handles disk or server failures seamlessly by maintaining 3 replicas of an object at any point in time. If any copy of the object is lost or destroyed, the system recreates additional copies to prevent data degradation.
IDrive's pricing slams the door shut in their competitors' faces
We noticed earlier in 2020 that IDrive had started providing object storage in the same way as at least 10 other providers we have tested. What we didn't initially see was their aggressive pricing of 2TB of storage for $6 in the first 12 months.With NO egress charges (data transferred from their service), their service is very attractive to newcomers. This is a 12-month promo and will revert to regular monthly pricing after the 12 months are up.The monthly promo price is so low that our calculator displays it as 2.895833333333333e-4A shift of the numbers, and it looks like 1GB will cost $0.00029 per month during their promo.
When we signed up to their free trial, we had a minor issue we needed resolving and received 2 replies from their tech team within 15 minutes which answered our question.
Microsoft's Azure 'blob' object storage

$109.54 to store and download 1TB
Free 30 day trial with a generous £150 credit (no credit card details required) to spend on any Azure service. Local replication within one data centre. GEO replication to secondary data centres and Eleven 9s data durability on their LRS service. Options for cold and hot storage with price breaks. Easy-to-deploy services in any region worldwide and over 50 regions available worldwide.
No native S3 connector and very expensive. By far and away the most expensive of the object storage providers we have tested. Over-complicated pricing model. Poor technical support. Tech support is chargeable and is handled by other companies rather than through Microsoft staff.
Microsoft launched their Azure cloud service in 2010 after seeing Amazon's AWS cloud service explode in popularity since their launch in 2006. We were eagerly waiting for MS to open a UK data centre for our UK customers who must store their data in the UK. They did this a few years back and it is the main storage destination used by our UK customers who require UK based storage.

Microsoft is a 'go-to' company for most medical, government, police, military, and other high-level customers, and they have over 50 regions worldwide.

Microsoft's Azure portal is the best we have tested and used. We use Azure for our customer data and have always been impressed with the level of granular information right down to blob meta data information.

Microsoft's Azure 'blob' pricing
As we said in the opening statement, Microsoft is a 'go-to' company and as such they are happy to charge more than most of their competitors.
Microsoft haven't increased their pricing, though; it is their competitors who are disrupting the market with lower prices. Microsoft Azure pricing for the EU South (London) region: $20.89 object storage (hot blob) and $88.65 to download your data (total $109.54).
The total comes from Microsoft's default price options shown in their calculator and other incidental charges – Write Operations, List and Create Container Operations, Read operations, Data retrieval and Data write.
Backblaze's B2 object storage​
$15 to store and download 1TB
10GB free storage. They offer to pay your transfer costs if you are moving from another cloud (over 50 TB). Now with S3 support.

Egress charges are low ($0.01), but still way more expensive than Wasabi. Only one data centre, therefore no geo redundancy.
Backblaze have been a market leader for years with their fixed-cost service and famous red pod NAS devices. As with IDrive, Backblaze have now joined the object storage market with a simple-to-use service.They got off to a slow start which was no doubt caused by their unwillingness to adopt the S3 standard. We're glad to see they saw the light in May 2020 and joined the rest of the sector (with the exception of Microsoft) in offering S3.Backblaze have always adopted a no-nonsense approach in how they deliver their services and have provided great insight into how their operations are run. As techies, we have loved reading about how they select which disks to put in their red pods as well their annual reports comparisons on which disks fail more frequently than others.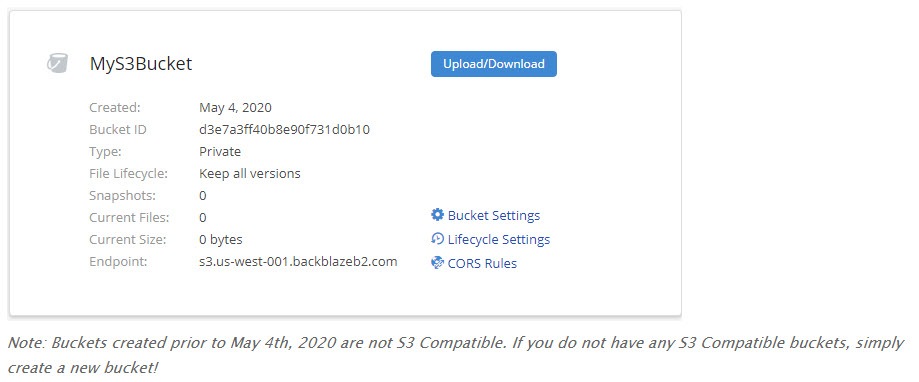 Backblaze's B2 pricing overview
If we use our standard measure of storing and downloading 1TB of data, Backblaze's B2 will cost $15 per month. That is $5 object storage and $10 to download your data.
If your business doesn't need to download much data, this won't affect you. But if you are hosting a file sharing service, this can be a weighty problem.


$5.99 to store and download 1TB
Low cost and honest pricing. Regions in the US, Japan and the EU (Holland). They only provide object storage that puts them at the top of their game.
Egress charges are low, but they still charge if more than 100% storage is downloaded. IDrive allow 200% by comparison. No GB pricing, only full TB pricing. Every object has a 90-day minimum storage period.
Wasabi - the saviour of object storage ?
We will always have a professional love for Wasabi @ wasabi.com for being the first disruptor we saw in the cloud storage market.

Wasabi don't charge for egress and allow you to download 100% of your storage per month for free.
E.g. If you have 2TB of data stored with Wasabi and download 2TB in one month, that is OK. If you have 2TB of data stored with Wasabi and download 3TB in one month, they will review your account and start charging for egress overuse for the 1TB.
If you want to host a website or get a VPS from Wasabi, you are out of luck. They have firmly set themselves as an object storage provider and are leading the pack.

Results of a previous backup test we ran
We previously posted the speed results of backing up to Azure vs backing up to Wasabi and were pleased to see that Wasabi was very quick and lightweight.
This got us thinking about how Backblaze's B2 object storage would compare to the other 2 cloud destinations.
It's also a perfect time to speed check Azure and Wasabi again 5 months after the previous bench test. Wasabi were displaying some awesome speeds back in June when we tested their service running in Holland. We were worried they might have started to suffer some latency as their network usage and amount of data stored increased, so it seemed fair to check again.
Then we thought we should also run the test on Microsoft Azure blobs, Amazon AWS S3, Google Cloud, Wasabi, Backblaze B2 and IDrive Cloud object storage. For our test backup server, we are using Ahsay CBS version 8.3 and it is running in Microsoft's Azure's data centre in London.
The Wasabi location is in Holland (Amsterdam) and the Backblaze B2 destination in the US. The latter does skew the results somewhat because it is on another continent, but as the results show, this shows how responsive B2 is.
Microsoft Azure blobs
Amazon AWS S3
Google Cloud
Wasabi
Backblaze B2
IDrive Cloud
London
London
London
Holland
US
US
For our test, we are backing up approx. 1.6GB of generic data and our internet connection is approx. 6 Mbps upload. The data is compressing down to 426 MB which is a 75% compression rate. We expect to see compression rates of 40-90% on most types of data.
The Ahsay software will backup consecutively to each of the 6 backup destinations.
Every destination has its own data store with nothing shared. This means if one of the backup destinations suffers from loss of data or data corruption, the other 5 destinations are unaffected and can be used to restore from.
Wasabi, Backblaze B2, Azure, Google Cloud, AWS S3 and any other S3(IDrive) are our pre-defined destinations
Upload backup speed test results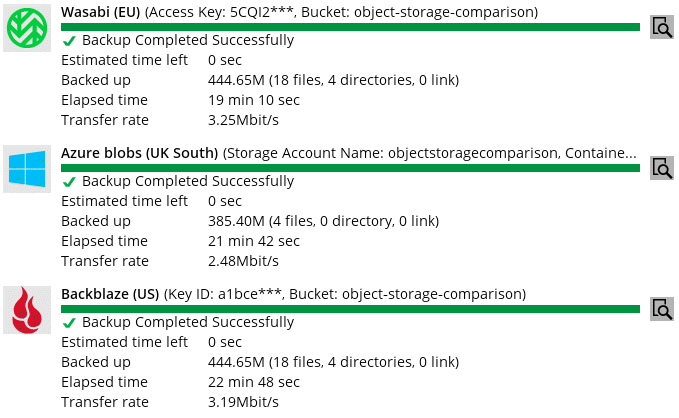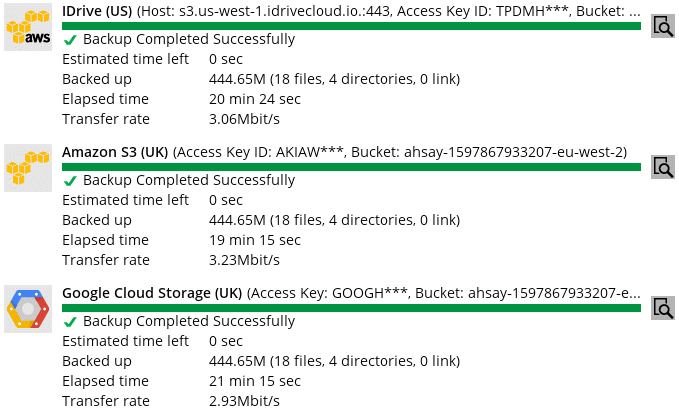 The Wasabi destination in Holland was the quickest. This is a constant and always surprises us because it beats all the UK destinations. Notably both the Backblaze B2 and Wasabi destinations (both in the US) were quicker than Google in the UK.
What speeds should be expected of a cloud backup or data transfer?
We didn't test large data files and used generic office files that we would expect to see on desktops and servers. This means the speed will be slower than if we had transferred large files.
Experience tells us that large files, such as a 5TB Hyper V disk will transfer at approx. twice the speed of 5TB of regular files, and sometimes 5 times as fast as 5TB of very small files (less than 200K in size). The reason is because a lot of backup and restore overhead occurs during the first exchange. Once this handshaking is complete, larger files will transfer as fast as the connection allows.

Online backup software expects to be run on very low bandwidth connections and all providers will have grown up with Kbps speeds where the software is written specifically to handle these situations.
Online backup software will check every file encountered during the pre-flight checks, and it will look something like this:
1. Does the file need backing up (i.e. has it been modified since the last backup 'delta')?
2. What part of the file has been modified? There is no obvious way to ascertain this and very often the backup software will dump out the file locally and stream out the delta. This will increase the backup, but not the transfer time.

3. Does the delta file need chopping 'chunking' up into smaller manageable chunks so that the transfer can be retried if a block fails in transmission? Our software will chunk the file into blocks of 32Mb or smaller.
4. Does the delta need encrypting? The answer should always be yes.
When this process is run on the 5TB Hyper V disk we mentioned earlier, steps 1 and 2 are done once.
If we repeat this on 5TB of very small files, the overhead in steps 1 and 2 is greater because it is repeated approx. 25,000 times.
These factors all have an impact on the backup and restore speeds. There is no way to estimate backup times other than rigid benchmarking on customer's environments.