321 Data Backup Strategy Explained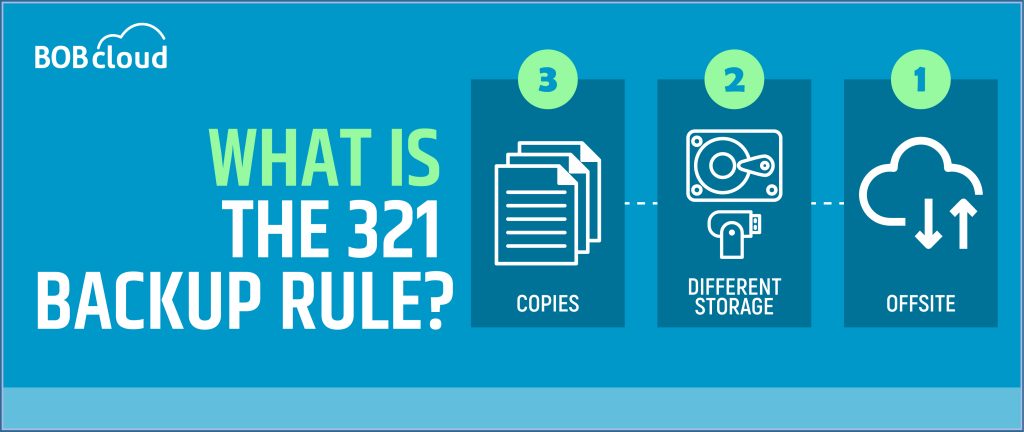 What Does the 321 Data Backup Rule Mean?
The 321 backup rule states that you should have:
3 copies of your data:

 One primary copy plus two backups.

2 different storage media: 

For example, cloud storage, network storage, internal hard disks, external hard disks, tapes, and possibly CDs and DVDs.


1 offsite location:

A remote location where you can store your backup, e.g., remote cloud services, data centres, and secondary office locations.
This approach combines the essence of a robust 321 backup strategy, underscoring its significance as a dedicated 321 backup policy and a guiding 321 backup principle. Understanding the 321 data backup rule is vital for formulating an adequate data protection plan.
What Makes the 321 Backup Rule Significant?
The 3 2 1 backup rule is essential for everyone, regardless of the size of their business or the amount of data they have. Even a small amount of data loss can be costly and disruptive, such as:
Hardware failures:

Hard disks will fail because of age factors or other mechanical issues.

Software errors:

 Software errors can lead to app crashes, freezes on a device, and accidental deletion of files.

Human mistakes: 

 When users can overwrite, lose, or not save up documents due to human error.

Malware attacks:

 For instance, a virus, ransomware, or hacker may infect, encrypt or steal your data.

Natural disasters:

 A fire, flood, earthquake or power failure could destroy your premises or equipment.
The triple-back system requires three copies of your data to be stored on two separate mediums and another offsite source for redundancy. In addition, you will recover data more quickly from a local backup than from remote backup repositories.

What is 3 2 1 Backup Rule?
The 321 data rule is a widely adopted strategy for efficient data protection and retention. You can implement the 3 2 1 backup rule using various storage media, including external hard drives, NAS devices, cloud storage, and tape libraries.
 To implement the 3 2 1 backup rule, you need to:
Choose a reliable backup software:

Select backup software that automatically protects your data and is easy to use when you are recovering your data. Ensure it supports various storage mediums, including cloud services and D2D, and has the expected features such as encryption, versioning, compression, and scheduling options to notify you upon completion.

Choose a backup frequency:

Decide how often you need to back up your data. Consider how frequently you alter or update significant files. The options include various backup frequencies such as daily, weekly, monthly, and on-demand.

Choose backup retention:

How long do you want to keep the revisions of your data? This is determined by factors such as the amount of storage memory necessary and the time required to retrieve historical data. Are there legal requirements for how long you retain data in your sector?


Choose a backup verification:

Make sure your backups are valid and restorable. From time to time, you need to run tests on your data backups by restoring them in another place/device to ensure that it is intact and works well.
The rule of thumb for backup in a 321 rule of backup contains three copies of your data placed onto different forms of storage media, where one is situated elsewhere. It is an efficient procedure that greatly minimises data loss, hence a vital ingredient in every data protection process.
Here are some practical examples of implementing the 3 2 1 backup rule in different scenarios and protecting your valuable data from loss or damage.
Personal data:

 Ensure it stores pictures, videos, documents, and audio in case of a computer breakdown by purchasing an external hard drive or using cloud-based services. This practice guarantees three copies of your data stored in two facilities and an offsite location.

Business data:

 For example, if you store vital information regarding your server or workstation, including database, email and banking details, among many others, then you need to copy those documents elsewhere on another server or workstation and cloud-based service provider. This way, you can have three copies of your data in two types of storage and one offsite location.

Mobile data:

 Save relevant data from the smartphone/tablet, like contacts, messages, apps, or anything else, into the PC before uploading to 

online cloud storage

 sites. To ensure safety, create three copies of your data in two storage media and one remote location.
By implementing the 321 rule, you create a reliable safety net for your data, ensuring it remains secure and retrievable. Solid backup planning with a strategy is critical to keeping your company's necessary data safe.
Why Is It Important to Back Up On-site and Offsite?
Data backup is critical for every business and personal venture with digital devices. Data loss occurs because of hardware failure, human error, natural disasters, cyberattacks or theft. Data backup, both on-site and offsite, should be done to avoid loss of information and ensure restoration.
In this context, on-site backup refers to storing data in a locally available device. On-site backup is quick and readily available. On the other hand, on-site backup also has its share of limitations, considering fire, theft, and even natural hazards. These will impact your data durability if your primary data source (server or desktop) is also affected.
Offsite backup refers to saving data in a distant device or service, for example, an online backup service, an internet backup service, or a tape library. Backup offsite is safe, dependable, and can be grown. Offsite backup also has disadvantages like internet connection, bandwidth, and costs.
Having on-site and offsite data backups provides an optimal and comprehensive approach to prevent data losses, promoting quick information recovery if you lose it. On-site backup combined with an offsite backup offers a variety of protection levels for different eventualities. For instance, it is possible to do daily backups of active data using on-site backup and periodic full backups of archival data when employing offsite backup.
The simplicity of the 3 2 1 backup data rule makes it an extremely effective disaster recovery plan. By applying the 3 2 1 backup rule, you will always have spare copies ready if there is a failure of your master copy or your local backup. In case of data loss, you can restore it faster and easier from a local backup than a remote one. 
It is essential to test your backups regularly to ensure that they are complete and restorable. You can test your backups by restoring them to a test environment or contacting your backup service provider.
If you need an efficient and user-friendly backup program that adheres to the 3 2 1 backup rule, use backup software like Backblaze, iDrive, and Acronis Cyber Protect. This backup and recovery software provides compression, encrypted backups, and support for various storage media and cloud services.