4 Easy Ways To Recover Unsaved Or Deleted Word Documents in 2023
Losing an important document or forgetting to save it can be frustrating. We all have been there, wondering how to get back a day's work.

The most common causes of unsaved document loss, are, power outages, computer crashes, and human error.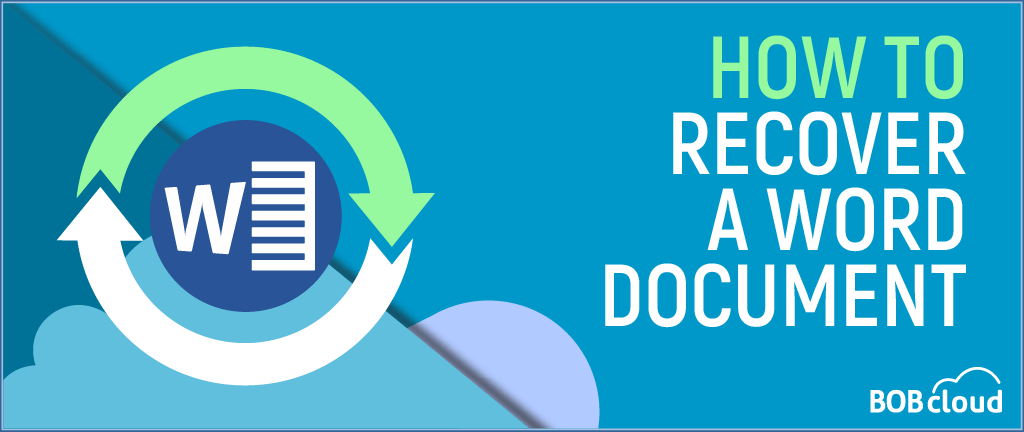 If you forgot to save a Word document and think you have lost it, don't worry. Microsoft Word has some great features designed to help you recover unsaved files and restore your critical documents.
We will outline four main methods for how to recover unsaved documents in Word: AutoRecover, tapping into Document Recovery, and exploring Temporary Files.

Regular backups can also help prevent these situations; check out this guide on How to Backup OneDrive Effortlessly for additional peace of mind.
AutoRecover in Word automatically creates backup copies of your document as you draft it. This is known as unsaved Word file recovery. Should you misplace your file, you can typically retrieve a saved version using AutoRecover with the steps below:
Open Word and go to the File tab.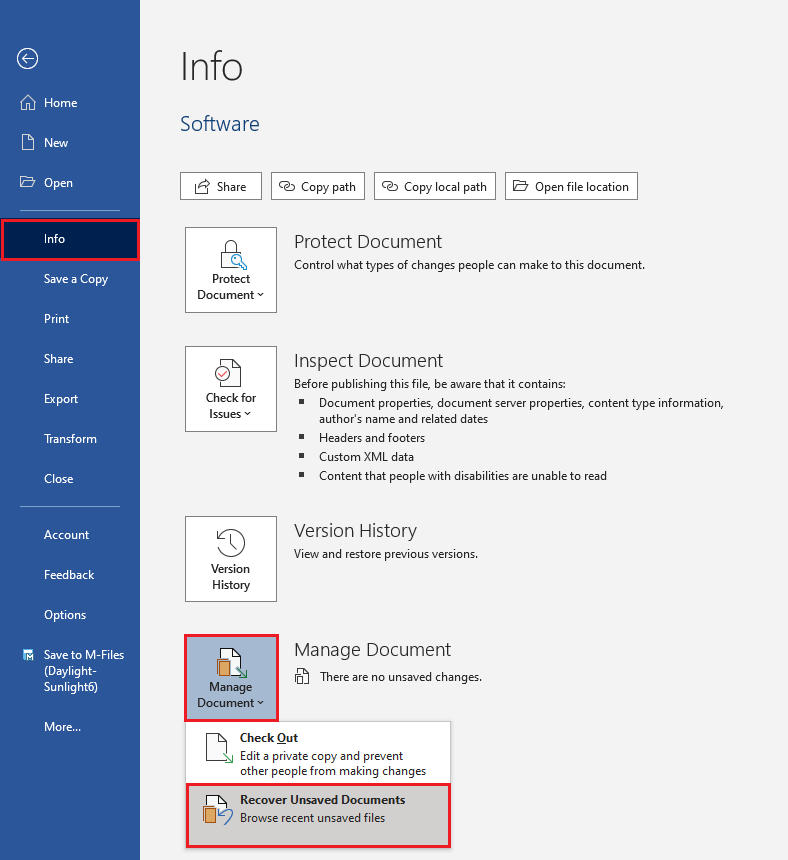 Click on

Info

, then on

Manage Document

.

Choose

Recover Unsaved Documents

.

A list of AutoRecover files will pop up.

Select

the relevant one and click Open.
Ensure you save the recovered document under a new file name.
Method 2: Document Recovery
Another option is Document Recovery, which comes into play if Word crashes or you experience a power outage. This is especially relevant if you're wondering how to recover Word document Windows 11 after a system crash. Here, you can see the list of open documents before the problem occurred.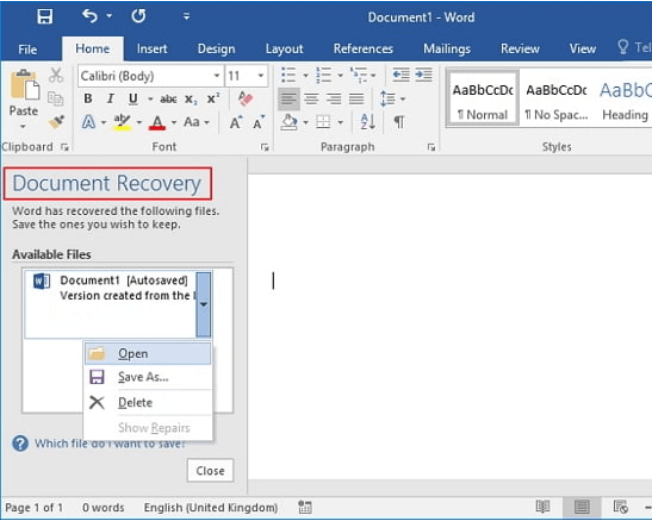 Reopen Word after it has crashed or after restoring the power.

A Document Recovery pane will show up on the left. It lists the documents open at the time of the issue.

Pick the document you want to retrieve and select one of the options: Open, Save As, or Delete.
Method 3: Recover Unsaved Word Documents from Temporary Files
Word's AutoRecover function is also how to recover unsaved Word document Windows 11 effectively. It's a safety net, saving files periodically to prevent unforeseen losses. To utilise it:

Begin with Word and navigate to File> Options > Save.

Ensure the Save AutoRecover option is active and note its save location.

Exit Word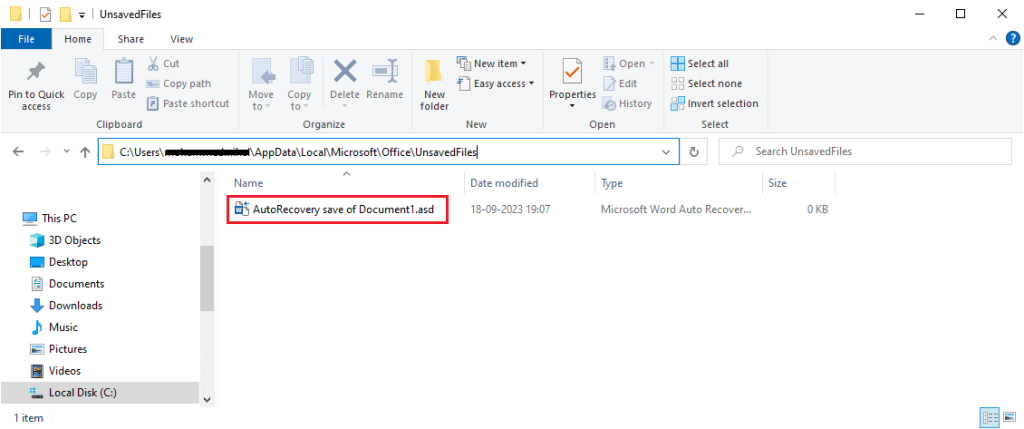 Open File Explorer, go to the AutoRecover location (C:\Users\xxxx\AppData\Local\Microsoft\Office\UnsavedFiles). 

Look for .asd files – Word's AutoRecover creations.

Relocate and rename these files to .doc or .docx.
Now, you can safely open the document without losing your data.
Check this article to learn how to backup Office/Microsoft 365 data and its importance.
Method 4: Check Recycle Bin
It's common for deleted files to end up in the Recycle Bin. You might find it here if you're looking to recover Word docs that you mistakenly deleted. To verify: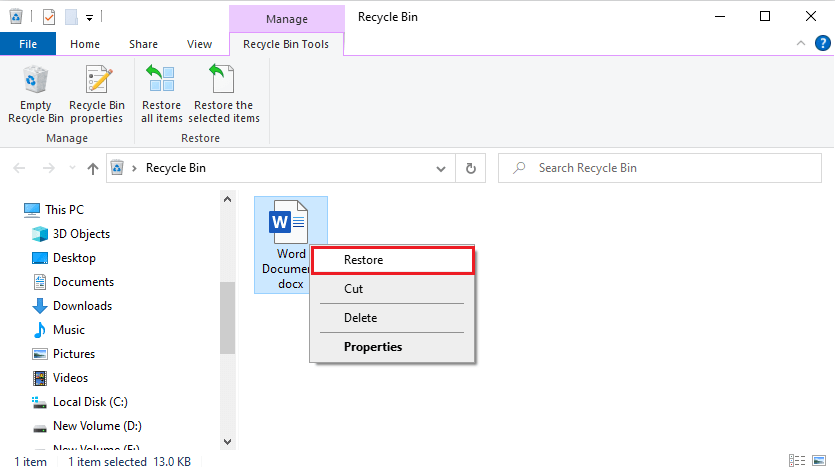 Open the Recycle bin on your desktop or search for it.

Look for the Word document. When you find it, right-click and click 'Restore'. 
Now, you can find a Word document in its initial location. If you want to restore the Word document somewhere else, right-click on the file and select cut and paste wherever you want.
Losing a Word document can be frustrating, but different recovery methods are available if you're wondering how to recover files from Word in Windows 11. This includes looking in the Recycle Bin and temporary folder. Making regular backups and using autosave can also help prevent future loss. 
If you've tried all these methods for Word recover files and still can't find your document, consider getting professional help or using special recovery software like EaseUS Free Data Recovery Software.