How to backup WhatsApp data to Google Drive in 2023: 9 Simple Steps
Have you ever asked how to back up WhatsApp? When you come to swap your phone, you will want to move your chats to your new device and need a WhatsApp chat backup. This article explains how to back up your data on WhatsApp.
When you intend to replace your phone, you can ensure the transfer of chats is straightforward.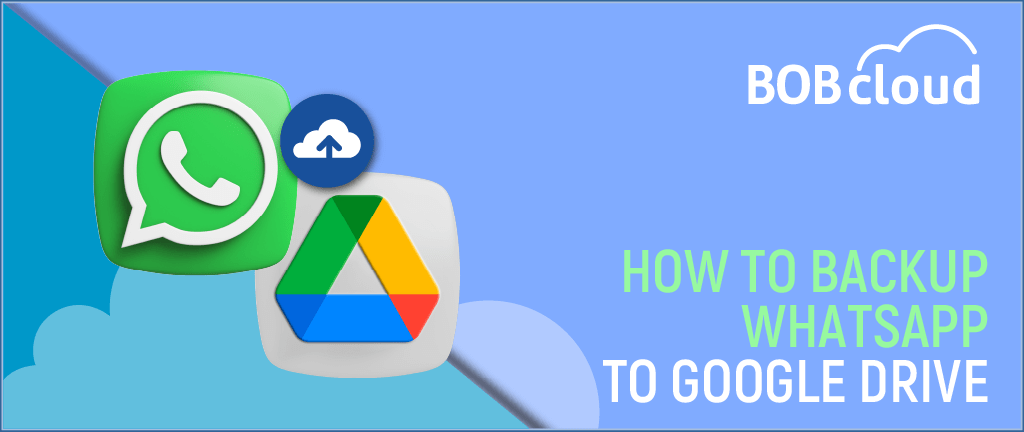 WhatsApp backup Key Notes:
By design, Android devices use Google Drive, and iOS devices use iCloud for their backups.
There are unlimited services where you can store the backup you create.
WhatsApp chats are backed-up using the APP.
WhatsApp chats and data can be easily restored during a fresh installation.
You can back up WhatsApp messages to storage devices, disks, and cloud platforms. This article will detail how to back up your WhatsApp to Google Drive in nine easy steps.

You must make a backup of your data on WhatsApp should your phone suffer a hardware error or is lost. We recommend backing up to Google Drive as it is one of the best cloud storage platforms, and everyone gets 5GB of free storage.
Why Backup WhatsApp Data?
It depends on what you use WhatsApp for. If you are a casual user like most, it's not the end of the world if you lose your messages. However, if you have important messages, photos, or files or are required by the laws in your sector or country to retain these messages for a period of time, then a tested backup and restore method is mandatory. 
Remember, in the UK and other countries, WhatsApp is an accepted method of communication, and your messages can be used in legal disputes.

Therefore, keeping a backup of WhatsApp Data is highly important in such cases and can be beneficial for a user to retrieve data quickly.
Backup WhatsApp to Google Drive in a Few Easy Steps
If this is your first time configuring a backup of WhatsApp to Google Drive, you will be happy to see how easy it is.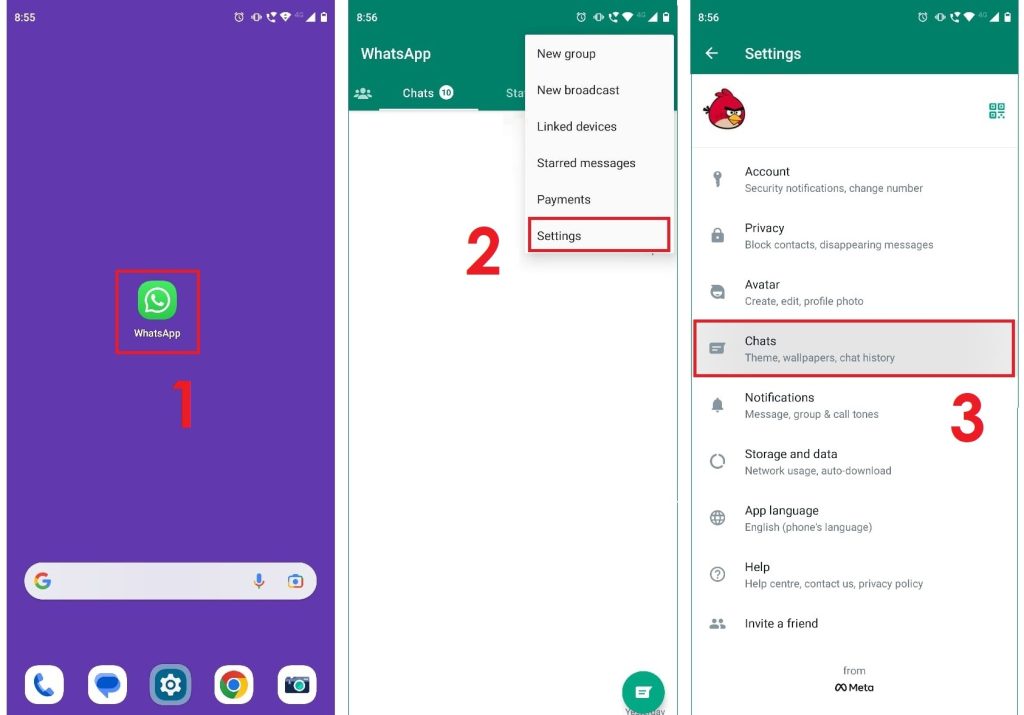 1. Open WhatsApp (Note: Make sure to choose your WhatsApp version through Play Store on Android)
2. Tap on the colon icon (:) just on the top right and select Settings
4. Find Chat backup and tap on it
5. Tap on Back up to Google Drive
6. Select whether you want the backup to happen weekly, daily, monthly or "Only when I tap 'back up'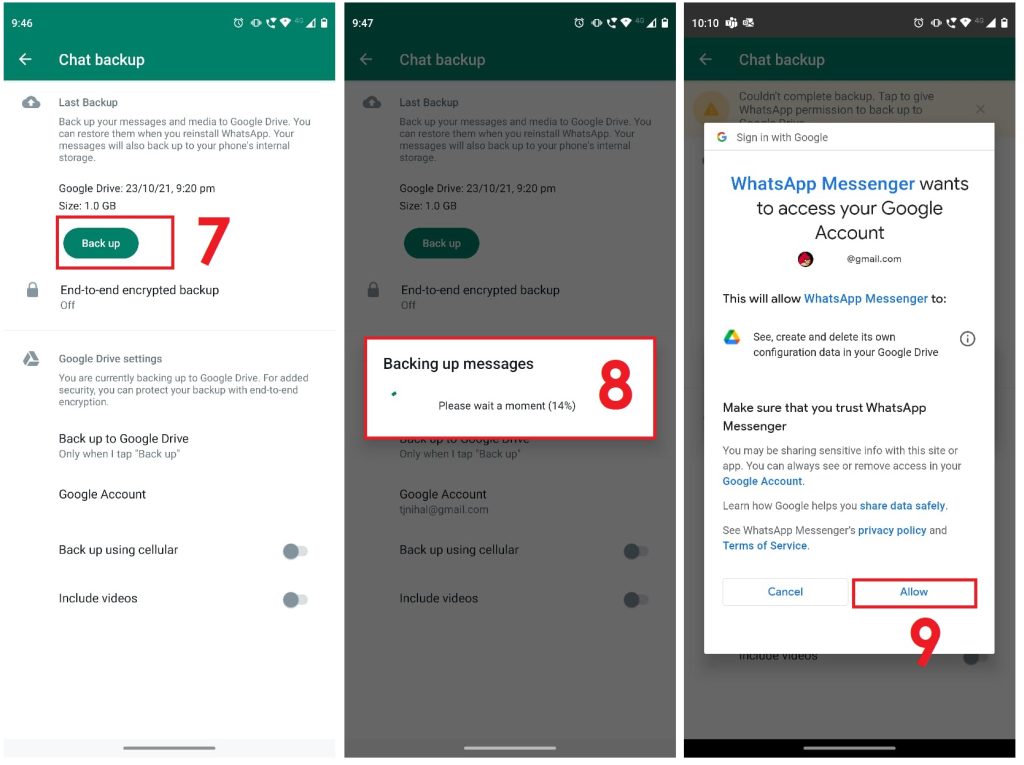 7. Tap on the Backup button.
8. Let the Backup progress finish.
9. Tap the Allow button to allow WhatsApp access to your Google Account.
Note: During this process, you will be prompted to log in or select the Google account where you want to store the WhatsApp backup data. If you have more than one Google Account, ensure you choose the correct one so that future restores are simplified.
For added security, tap the End-to-end encrypted backup option in the Chat backup menu and turn it on to ensure your WhatsApp backup data remains private, even from Google.
In the Chat backup menu, you can select whether you want the backup to happen via Cellular Data or WiFi or include videos on your WhatsApp backup data on Google Drive; continue after you have made your selection.
This is How to back up WhatsApp to Google Drive. By following the above steps listed here, you can generate backup data on Google Drive successfully.
Where Can I Find My WhatsApp Backup in Google Drive?
If you have successfully backed up WhatsApp to Google Drive,  you can check your backup data is stored on Google Drive. If you need a WhatsApp backup for Android, you can check your WhatsApp to Google Drive backup.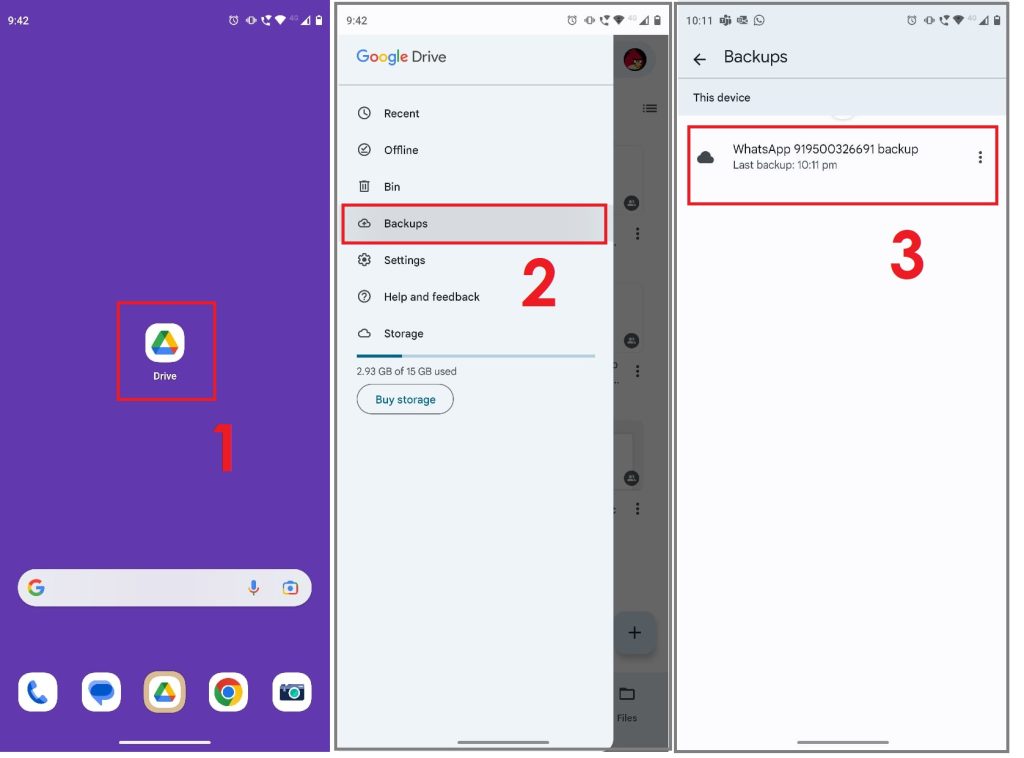 1. Open Google Drive on your Android device
2. Tap on the three horizontal bars on the top left and select Backups
3. Locate your WhatsApp Backup Data
You can see all your backups here, including your WhatsApp data.
Note: Keep using your device and update your backups; otherwise, the backup will be automatically deleted after a few months. If you didn't find the backup folder on your Google Drive check this article How to Restore Deleted WhatsApp Messages Without Backup.
If you are restoring your backup to a new device, you will need to use the same phone number that you used to create the backup, and Google account.
This is How to back up WhatsApp chats to Google Drive. With this, your data will remain secure and ready to access whenever desired. In this article, you also learned where to find your backup data on your Google Drive folder from your device.
If you have any other queries, don't forget to comment below.