The Ultimate Guide to WhatsApp Backup
WhatsApp App from Facebook is one of the most widely used messaging applications today, with over 2 billion users. WhatsApp allows sending text messages, making voice calls and even video chat, and sharing media files. The WhatsApp Backup allows storing data such as chat history, media files, and settings in a cloud-based storage. With this, you remain assured that you can regain your details even on a different device or after accidentally deleting the application.
To protect all your data on WhatsApp, consider backing up WhatsApp data onto a cloud service like Google Drive or iCloud or on your storage. To help you restore your WhatsApp data on your new device or recover it when you lose or damage your phone, back it up.
We will learn how you can backup WhatsApp data to cloud storage, restore it, manage it, and resolve some of the common issues while restoring the WhatsApp backup.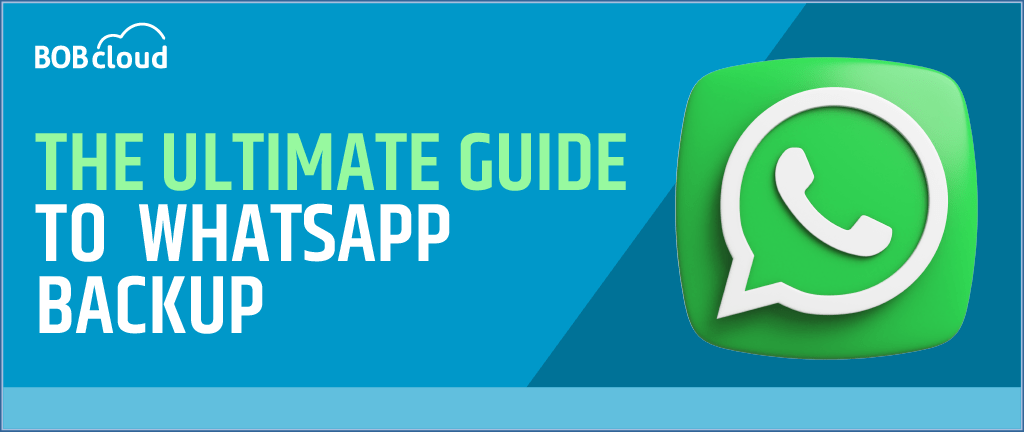 What is WhatsApp Used For?
WhatsApp is an instant messaging application with which people can exchange texts, audio or visuals like pictures and videos and establish groups for discussing a specific issue. The app also offers the end-to-end encryption of messages, the sharing of location, documents, voice messages and group voice/video calls to an individual or multiple persons.
Also, businesses can use WhatsApp to chat with their customers, offer customer support and send notices through tools such as WhatsApp Business and WhatsApp Business API.
What is WhatsApp Business Account?
WhatsApp Business application comes at no cost to small businesses that wish to have conversations with clients and handle their profiles in WhatsApp. It empowers organisations to construct a business account with data like business descriptions, contacts, website links and business timings.
A business with a WhatsApp Business Account will be allowed to send greetings, quick replies, and offline replies to give better customer care services. They could also adopt WhatsApp Business API to interface with other business software and systems to simplify communication and client management.
How to Backup WhatsApp on Android and iPhone
For Whatsapp to create a backup for you, you must have a Google account (android phone) / Apple ID (iPhone) and enough space on your Cloud store or locally. Here are the steps on how to backup WhatsApp data to Google Drive and iCloud.
For those curious about where WhatsApp stores backups on Android and iPhone, the app automatically saves data to either Google Drive or iCloud. To learn more about storage locations, you can find more details in our article on Where is WhatsApp Backup Stored on Android and iPhone.
Security Measures for WhatsApp Backup
End-to-end encryption (E2EE) is one of the most notable features of WhatsApp for backups to enhance the security of users' data.
Encryption Keys and Passwords:

 With E2EE backups enabled, a unique, randomly generated encryption key encrypts the backups. Users can choose to secure the key manually or with a user password.

Backup Key Vault:

 When a user opts for a password, the system stores the key in a Backup Key Vault built based on a hardware security module (HSM) component. The HSM-based Backup Key Vault enforces password verification attempts and renders the key permanently inaccessible after a limited number of unsuccessful attempts to access it.

Accessing Backups: 

The account owner can access their backup with their encryption key or use their password to retrieve their encryption key from the HSM-based Backup Key Vault and decrypt their backup.

Storing Keys: 

WhatsApp's front-end service, ChatD, handles client connections and client-server authentication and implements a protocol that sends the keys to the backups to and from WhatsApp's servers.

Cloud Storage: 

When you create an end-to-end encrypted backup in iCloud or Google Drive, the cloud stores your messages and media. A password or a 64-digit encryption key secures them.
These security measures protect against brute-force attempts to retrieve the key. With these measures, neither WhatsApp nor the backup service provider can access the user's backup or backup encryption key.
Alternative Methods and Tools for WhatsApp backups?
There are several alternative methods and tools for backing up WhatsApp data:
Local Storage:

 You can back up your WhatsApp data to your phone's local storage. The local storage option is straightforward but requires sufficient storage space on your device. Check out this article to learn how to restore WhatsApp Backup from internal storage.

Email:

 You can back up individual or group chats via email. This method allows you to keep a record of specific conversations.

Screenshots:

 Taking screenshots of your chats is another way to keep a record of your conversations. This technique may only work for short conversations and media support files.
Third-Party Tools:

 You can use third-party tools to back up your WhatsApp info.
While using any third-party tools, you should be more careful and verify the security and reliability of the tools you intend to use in backing your data anytime. However, mentioning that some suggested techniques may not guarantee the same degree of safety afforded to whosoever's by the official Whatsapp's inbuilt backup tool is equally crucial.
Most Common WhatsApp Backup Failure Issues:
This section addresses the most frequent problems and queries concerning WhatsApp backup. Here are some common questions and issues you might have with WhatsApp backup, along with their solutions.
What Caused the Failure to WhatsApp Restore?
Some of the potential causes of failure to restore your WhatsApp backup include:
It is the different phone number or Google account/Apple ID with which you had created the backup.

You cannot restore the backup because there is no space on your phone or insufficient storage in your cloud.

You cannot download the backup as it needs a faster and more reliable Internet connection.

The backup file you have loaded is corrupt or incompatible with your phone.

Sometimes, accidental deletion of messages might occur.
Check out our guide on how to restore deleted WhatsApp messages without backup if you've lost essential messages and didn't have a backup.
To fix the above listed WhatsApp issues, you can try the following solutions:
Ensure you use the same phone number and Google account/Apple ID with which you established the Backup.

Delete unwanted files and applications to free up space on your phone or cloud services.

Ensure that your device connects to a solid Wi-Fi service or uses cellular data in case of an unavailable Wi-Fi connection.

Remove your initial backup file and recreate it following the previous steps.
Do you need help with your WhatsApp backup process? Explore 5 ways to fix WhatsApp Backup stuck issue in 2023 for troubleshooting tips.
How To Move WhatsApp Backup From Android to iPhone?
However, WhatsApp still needs to make cross-platform backup and restore available. Thus, moving the official WhatsApp backup from Android to iPhone is impossible and vice versa. Fortunately, some external tools and applications promise to assist you in this process, like the Wondershare MobileTrans tool, BackUpTrans app, and Dr. Fone. 
These are available on Google, and you should follow the guidelines these external assistance providers provide. These tools, however, need to be more secure and reliable, and they must follow WhatsApp's terms of service.
What Are The Ways To Protect WhatsApp Backup?
The following are security recommendations to ensure that WhatsApp's Backup is safe.
Create a strong password for your Google account or Apple ID and use additional security using two-factor authentication.

Never disclose your phone number or verification code to an individual claiming to be a WhatsApp representative or one from another service.

Do not download any suspicious files or follow any suspicious links which may have malware and viruses.

Do not use illegal, unlawful tools or applications that may lead to losing your WhatsApp information or an account.
Understanding how to back up your WhatsApp data is crucial, which is vital for protecting and safeguarding your cherished messages, photos, chats and contacts. Following these steps, one will be sure there won't be any loss in case of accidental deletion or device loss. Always keep your data backed up so as not to lose it; try using more than one method of backing up for extra security measures.
Ultimately, depending on your case, whether you back up locally or off-site via the cloud, select an approach that best meets these and many other requirements. Backing up WhatsApp data makes one confident that their precious moments and significant dialogues are safe.