5 Ways to Fix WhatsApp Backup Stuck Issue in 2023
WhatsApp automatically backs up your chats to Google Drive or iCloud, every day (depending on your settings). This keeps your data safe and allows you to seamlessly switch between Android or iPhone devices should you want to.
Do you have an irritating WhatsApp Backup stuck issue on your device? If you've been struggling to backup your WhatsApp data and it seems to be in an endless loop, then you are not alone.
If you are asking 'why is my WhatsApp chat backup stuck?', then you'll be pleased to know we have highlighted the top five causes why your WhatsApp backup might be stuck.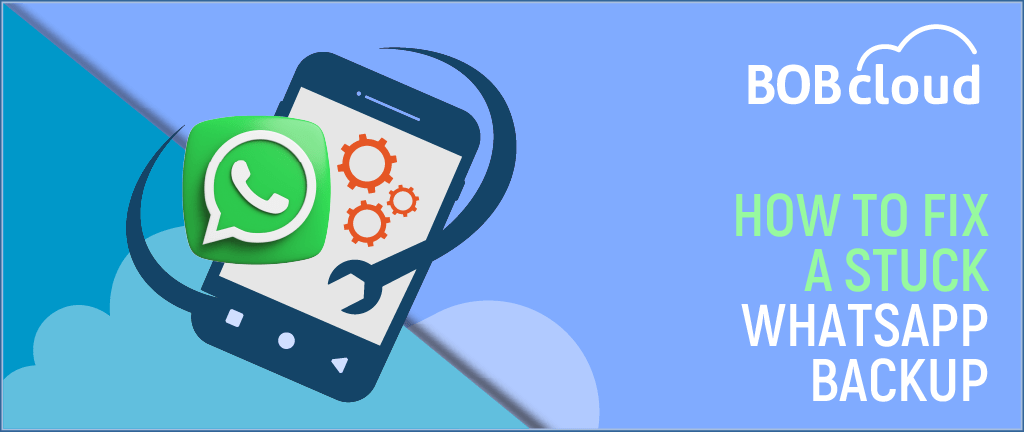 Many WhatsApp users face this problem at some point, and it means you are at risk of losing your data if you lose your device because your chats cannot be restored to your replacement device.
In this article, we will offer practical solutions to fix any WhatsApp chat backup issues.
Different Ways to Fix the WhatsApp Backup Stuck on Your Device
'Why isn't my WhatsApp backing up
?'
Firstly, you must ensure a stable internet connection on your device before starting a backup. If your data connection is on and stable, and your WhatsApp backup gets stuck, there are a few things you can do to fix it.
5G is commonplace throughout the UK, but in 2023, it is still very patchy even though the icon says otherwise. Your icon might say you are connected to 5G, but you might not be. You can run a quick speedcheck to confirm this or wait until you are back on wifi.
If your WhatsApp backup is stuck, all you have to do is start again. You start the backup again by restarting the app. There will be pause whilst WhatsApp is loading.
How to restart a WhatsApp backup: This is straightforward; you just close the app, open it again, and then restart the backup. You can exclude certain items from the backup if this doesn't work.
Try a manual instead: If the above doesn't work, wait 30 minutes and try another manual backup of WhatsApp. The 30-minute period gives your device a chance to reconnect and purge any failed files before retrying.
02. Don't Backup Video Items
If the backup is still failing, try disabling backing up your WhatsApp videos for now as a basic fault-finding technique.
Videos are considerably larger than standard messages and chat, so excluding them might help.
This is easy to do; you must exclude the videos from your backup. Those videos are not lost, they are already stored on your phone, so they do not need to be backed up.
How to exclude videos from your WhatsApp backup: Open WhatsApp settings, navigate to chat, and then chat backup. You can turn off the include video option.
If this fixes the problem; Great! Go through your videos and exclude those that are large or corrupted from the backup.
WhatsApp will quickly build up a lot of local cache data that is used to make your scrolling experience more intuitive and faster.  Too much cache can cause the backup to slow down or stall. The only way to fix this is to clear the cache.
How to clear the WhatsApp cache: Open settings on your phone and select manage apps; a list of apps on your apps will appear, select WhatsApp from the list. Select storage usage  > cache> clear cache.
Updating an OS or APP is always recommended because these updates will improve your user experience and resolve known bugs. It is very likely that if you have a problem, then others will have had the same problem and a fix has been made for it.
If the backup is still failing or hanging in WhatsApp, then you can check if you are using an outdated version of WhatsApp. If so, it can be easily upgraded to the latest version.
To ensure you do not have updated WhatsApp on your phone, check the Google play store or Apple App Store, considering your device.
Check iOS and Android are also up-to-date:
05. Check you have sufficient free space in iCloud or Google Drive
Apple devices use iCloud and Androids use Google Drive as their default storage locations.
Check you have sufficient space in whichever storage location you are using. s Available in iCloud. The problem with your backup is that you do not have enough space on your iCloud. Before trying any other thing, check for space on your iCloud drive.
You can check your iCloud space from your iCloud settings, navigate to iCloud storage and check for the space you have left.
Google Drive free space can be checked in a similar way on an Android device.
Another storage consideration: Are you using iCloud or Google Drive? It is possible to use other storage destinations for a WhatsApp backup location, so check for that.
If your WhatsApp backup is stuck on your device, or is failing in another way, it is quite easy to resolve.
Instructions to fix WhatsApp backup stuck on iPhone:
Update your iOS software. Make sure you're running the latest version of iOS. Apple often releases updates that include bug fixes and performance improvements.
Reset your network settings. This can often fix minor network problems that may be preventing WhatsApp backup from working.
Back up WhatsApp using iPhone backup software. This will create a backup of your WhatsApp data on your computer.
Make sure you have enough storage space in iCloud. If you don't have enough storage space, your backup will fail.
Turn on mobile data for iCloud. This will allow your iPhone to back up to iCloud even if you're not connected to wi-fi.
Connect to a working internet connection. A stable internet connection is required for WhatsApp backup to work properly.
Perform a manual WhatsApp backup. This will force WhatsApp to back up your data immediately.