The Ultimate Guide to iCloud Backup
If you have an Apple device, you will have seen iCloud backup, but how much do you know about it?
Apple's iCloud Backup authorises iOS device users to safeguard their valuable data on iPhones, iPads, and iPod touch. Offering both manual and automatic backup options, users can effortlessly ensure the safety of their information.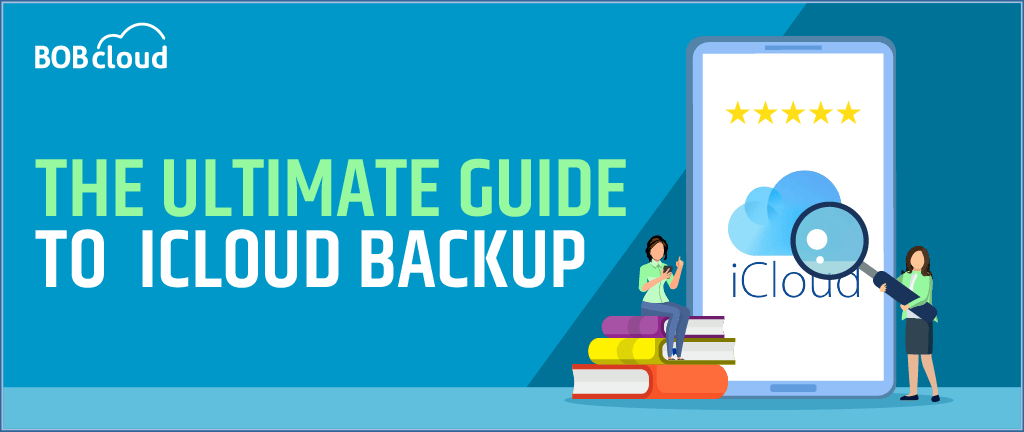 In this article, we explore how to initiate iCloud backups through Wi-Fi and customise settings for a seamless experience across iOS, Mac, and Windows platforms. How do you clear iCloud storage? How to turn ON and OFF iCloud backups, restore them using various options, and expand storage space for your peace of mind.
What is iCloud Backup, and How Does It Work?
iCloud Backup is Apple's secure data protection feature for iOS devices. It provides manual and automatic backup options. Users manually initiate backups by connecting to Wi-Fi and navigating device settings. For automatic backups, enabling 'Back Up This [Device]' in iCloud settings ensures data backup when connected to Wi-Fi, plugged into power, and locked.
iCloud backups are accessible from various platforms; users can customise backup data through settings. Deleting an iCloud backup halts automatic backups, and turning off iCloud Backup removes backups stored after 180 days. This feature ensures a secure data copy for device replacement, loss, or damage, with additional Storage available for purchase.
iCloud Backup involves taking a snapshot of the device's data, storing it on the user's iCloud account and restoring it to the same device or perhaps a newly provided one. Users can also decide which applications and data to save during Backup.
In addition, users may restore lost data from their iCloud account using another device or a new PC by merely logging in to the said iCloud account and requesting a restore from the Backup. Users only need to do that before downloading Backup from iCloud and restoring the data onto the device.
How Do You Turn iCloud Backup ON or OFF?
To turn iCloud backup ON or OFF on your iPhone or iPad, follow these steps:
Go to 

Settings

, Tab on 

[your name}

, and go to 

iCloud

.

Tap 

iCloud Backup 

to turn it ON.

Enabling iCloud backup will provide you with the date and time of the latest Backup and a button for instant backup.
Note: When you turn off iCloud backup, a prompt will arise indicating that you should rely on other means than iCloud for automated backups because you may use different approaches like iTunes or Finder.
You can also enable iCloud Backup and disable iCloud Backup on your Mac by following these steps:
Navigate to 

System Preferences

 > 

Apple ID

 > 

iCould

.

Navigate 

iCloud Drive

 and click 

Options

.

Mark the box by Desktop & Documents Folders.

To enable automatic Backup of the desktop folder and the Documents in the iCloud Drive on your Mac, tick the associated box.

However, if you untick the box, your Mac will no longer back up your folder on the desktop and the Documents file to iCloud drive.
How To Restore iCloud Backup?
Recovering from an iCloud backup requires additional precautions, whether on a new or existing Apple device. The process includes essential steps such as choosing 'Restore from iCloud Backup' and selecting the appropriate Backup for a new or wiped device.
In the case of an existing device, this means verifying a new backup and erasing all its content back to the factory settings. Please check out the article on how to restore from iCloud backup with detailed guidance on the procedure.
What Does iCloud Backup Include and Exclude?
Understanding what iCloud Backup includes and excludes can help you manage iCloud storage effectively and ensure the cloud safely stores your data. 
iCloud backup includes the following data and settings:
App data:

 Data concerning what you create in your applications, including documents, settings, gaming progress and many more.

Apple Watch backups: 

Data or settings on your paired Apple Watch.

Device settings: 

For example, wallpaper, brightness, and sound, which relate to the settings of your device.

Home screen and app organisation:

 How you design your home screen and arrange folders.

HomeKit configuration:

 What settings does it have, and how does it operate?

iMessage, SMS, and MMS messages: 

Cover all the messages on your iPhone, including SMS and MMS.

Photos and videos:

 Photos and videos that you saved on your phone's Camera Roll or Photo Library. Remember that since iCloud Photos backs up images and videos independently, separate from iCloud Backup, it does not include these in an automatic iCloud Backup.

Purchase history:

 Your purchase history with the App Store, iTunes Store, and Apple Books. It should consist of the fact that you download your purchases from respective stores.

Ringtones:

 Your personalised or purchased ringtones.

Visual Voicemail password: 

Please note that these do not save the original voicemail messages but only a record of them; your carrier's system keeps them.
iCloud Backup excludes the following data and settings:
Data already stored in iCloud:

 All your iCloud photos, iCloud drive files, iCloud mail, Contacts, calendars, reminders, notes, safari bookmarks, and history.

App Store or iTunes Store data:

 This contains applications, songs, films, television shows, podcasts, books and more.

Face ID or Touch ID settings:

 Your biometrics, like fingerprints, unlock your device and authenticate purchases at a POS outlet.

Apple Pay information and settings:

 Apple Pay options are the credit or debit card and other payment method(s) you have stored.

Activity, Health, and Keychain data:

 Data related to health care records, fitness logs, and passwords. However, remember that you must enable iCloud Keychain and turn on an encrypted backup to store those data separately.
How Do You Manage Your iCloud Backup Storage Space?
Do you know how many backups iCloud keeps on your iPhone? iCloud stores only a single backup for a particular device at any time. When you perform a backup again, the new Backup gets combined with the existing one. Therefore, iCloud retains only one Backup at a time.
To increase space on your device, or if you need to upgrade your storage plan, go to Settings > [your name] > iCloud > Manage Storage> Change Storage Plan. You can buy iCloud storage in multiple ways on your iPhone. The package ranges start from 60GB to 8TB every month. Family Sharing also allows you to share your storage plan with your family members.
Deleting an iCloud backup results in losing all app data, videos, messages, photos, and other crucial information. If you are wondering what happens if you delete an iCloud backup? It involves the removal of essential data stored within.
Cloud services like Google Drive and Dropbox do a decent job storing data, but iCloud typically offers enhanced security and protection, especially for Apple device users. However, If you have found a different service that suits your needs better and you're thinking of discontinuing your iCloud services. In that case, the article will guide you on how to cancel your iCloud storage in 3 different ways.
How Do You Troubleshoot iCloud Backup Issues?
Several issues can arise when you Backup iPhone to iCloud, such as your iCloud Backup will take too long, your Backup will fail to complete, or it may fail to restore correctly. Try some of the following tips to resolve:
Ensure you plug your device in with a power source and a Wi-Fi network.

Ensure that there is sufficient space in iCloud for backing up.

Ensure you have logged in using the appropriate Apple ID and password on your device and icloud.com.

Update your iOS/iPadOS/macOS systems to run in their latest variants.

Reboot the machine and then re-back.

Remove and discard obsolete/unnecessary backups from your iCloud account.

Seek more help from Apple support.
Backing iOS/iPad OS devices in iCloud is the safest and most convenient method that assists you in restoring lost data and other settings if your device, for instance, gets stolen or damaged. Undoubtedly, iCloud Backup is Apple's robust shield for securing data on iOS devices.
With both manual and automatic options, users effortlessly safeguard their information. Managing iCloud backups involves customisation, restoration, and understanding inclusions and exclusions. Efficient storage management ensures a seamless experience while troubleshooting tips address potential issues.
As a reliable supporter, iCloud Backup ensures that users confidently navigate data security, providing peace of mind for Apple device users. Embrace the power of iCloud for a secure and convenient data protection experience.